When I say this delicious appetizer takes one minute, I'm not kidding.
Here is the recipe:  Set out a platter.  Open a package or two of cream cheese and place on a platter.  On one block, spoon on some purchased red pepper jelly, and on the other, spoon on purchased green pepper jelly. Add some plain sturdy crackers (like Carr's water crackers) to the platter and serve.  Scoop up some of the cream cheese with the jelly and take a big bite.  Almost Instant and festive appetizer!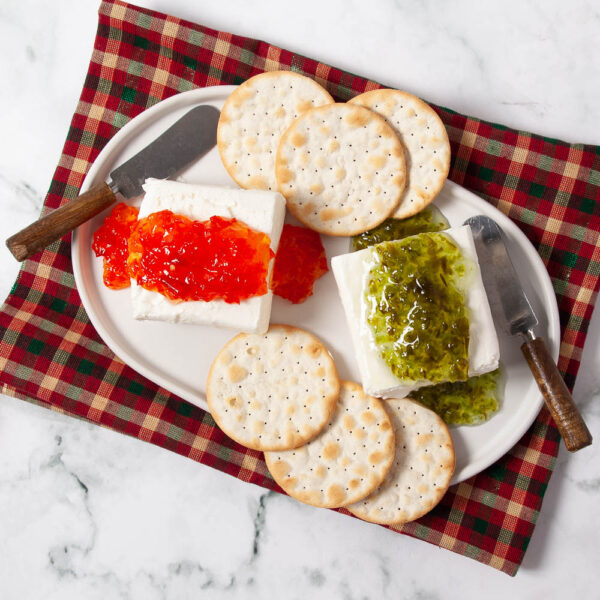 Now, if you want to go a step up and not be instant, prepare and preserve your own pepper jellies.  It's not hard, just takes time, and they make a great gift.  Plus homemade tastes so fresh and good.  My daughter Kristina and I made these jellies together months ago.  We have already given many away for gifts.  We also made other canned goods too, but those are other future blogs.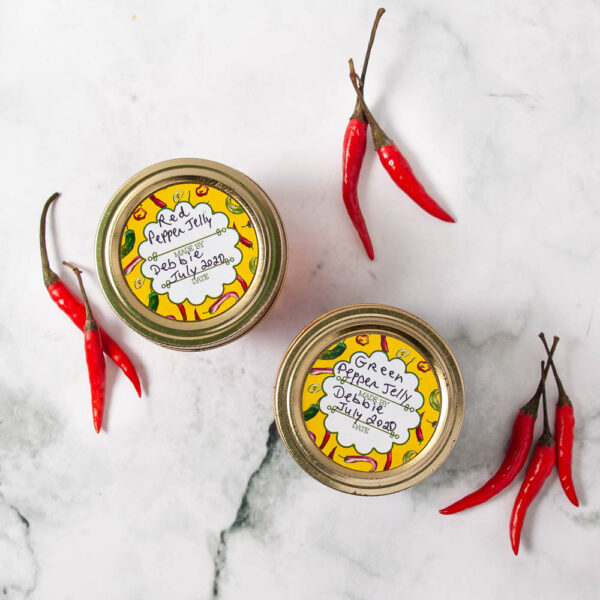 I found these cute labels in a Current catalog.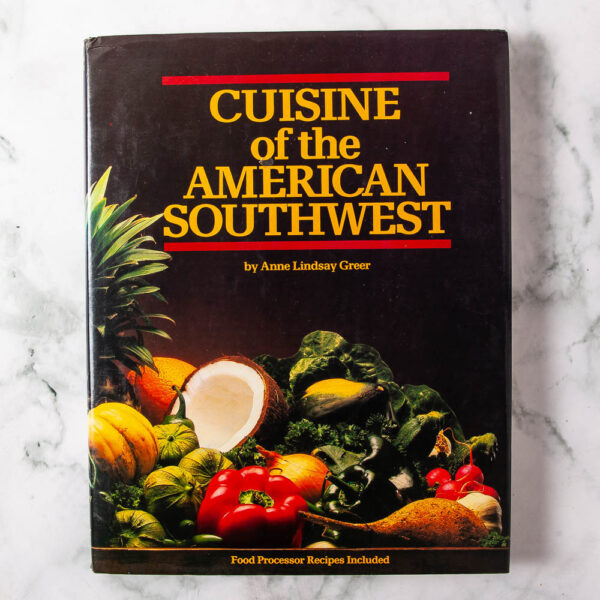 I have been making these jellies for years from this great cookbook from award-winning chef and Texan, Anne Lindsay Greer who researched all the regional differences in Mexican-American cooking for twenty years.  Her research covered just about every large Mexican-American community in the Southwest visiting farms, markets, private homes, and libraries.  I highly recommend the cookbook for those who love Southwest cooking.
The recipes cover literally everything from breakfast to desserts.  My favorite chapter is the relishes, sauces, and fillings, which is where you will find the Jalapeño pepper jelly recipe.  It's  sweet and mildly hot and a classic Tex-Mex favorite.
Merry Christmas!

Jalapeño Jelly
Author:
Anne Lindsay Greer from Cuisine of the American Southwest
Ingredients
6 fresh jalapeño chiles, trimmed, seeded, and veins removed (or leave some if you like hotter)
2 green bell peppers, seeded
1-1/2 cups cider vinegar
5-1/2 cups sugar
6 ounces (2-pouch package) liquid pectin
few drops green food coloring
*Note: For a red pepper jelly, substitute red bell peppers for the green bell peppers, and red jalapeños for the green jalapeños. Prepare as directed for the green jelly and use a few drops of red food coloring.
Instructions
Cut each chile and pepper into 3 or 4 pieces. Using the metal blade of a food processor, drop the pieces through the feed tube with the motor running. Process to finely mince.
Place the minced peppers, vinegar, and sugar in a 3-quart saucepan and bring to a boil, stirring to dissolve sugar. Lower heat and simmer 10 minutes, skimming foam from the top. Stir in the pectin and food coloring and boil for 1 minute. Remove from heat and let stand for 15 minutes.
Pour into sterilized pint jars, seal, and place in a water bath for 10 minutes. Remove and let cool on tea towels. Makes about 6 cups.
*See note above for making red jelly.