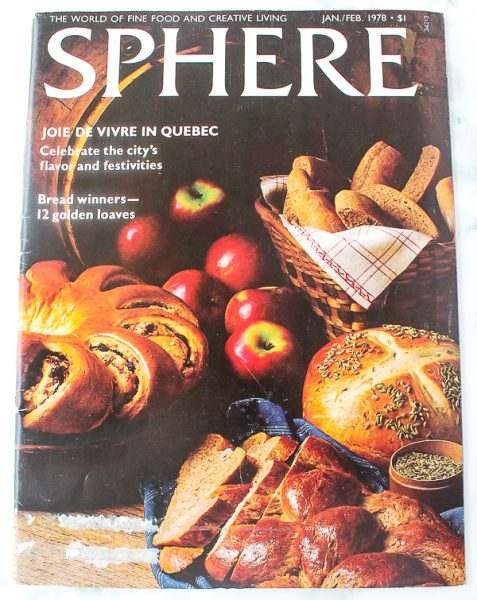 This issue of vintage Sphere features the city of Quebec, with its activities and celebrations, old world culture, and of course, glorious food.  There are recipes from elegant French-inspired fare to tastes of the countryside with hearty meals simmered in iron pots.  I have never been to Quebec, but it sounds like culinary heaven.
An article on Canadian maple syrup features recipes such as maple syrup mousse, maple gingerbread with maple frosting, apple-maple dumplings, and a spectacular maple ham that also includes some apple juice, dry mustard, and golden raisins, served with baked sweet potatoes.  There is even a recipe for "maple toast" on the monthly "Kid's Cook" page.  Maple sugar is sprinkled on buttered whole wheat bread, broiled until the sugar melts, then sprinkled with chopped walnuts.
In other articles, Perla Meyers offers recipes from the onion family such as chicken with a chive sauce, broccoli with a shallot mayonnaise, a leek souffle, mushroom-scallion soup, and a roast pork with an onion-mustard sauce.
With all the great recipes in this issue, I still had to choose those from an article on breads by my culinary idol, Bert Greene, who frequently wrote for Sphere.  Not only are Bert's recipes perfect, but he writes in a way that feels like he is sitting with you around the kitchen table, chatting while the aroma of bread baking fills the house.  Bert always had a story to tell and there are many bread-baking stories that will make you laugh.
Some of breads from the article are featured on the cover of this issue.  His recipes inside are for two sourdough breads, white and rye; Hungarian Fennel Bread, Pita Bread; Old Fashioned Cinnamon Bread; English Muffins; Southern Cream Biscuits; Scotch Scones; St. Bride Shortbread; plus two main dish breads, Tian Epinard that includes spinach and ham, and "Mr. and Mrs. Gaetano Burriere's Sciocco," a 100-year-old Sicilian family recipe that has Italian sausage, ricotta, and provolone cheese in its many ingredients.
But here is the one I decided to make:  "Apple Butter and Honey Whole Wheat Bread," a gorgeous and delicious braided loaf.  The recipe makes one big loaf or two smaller. The delicate fruity flavor from the apple butter gives it a unique taste.  Bert also says to spray a mist of water over the loaves the minute it goes into the oven, then again after three minutes of baking, ensuring a splendidly crusty loaf.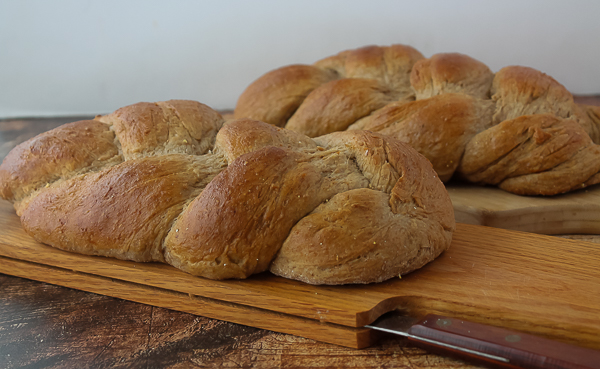 I can't tell you enough how good these loaves are.  They will definitely be a regular recipe in my kitchen.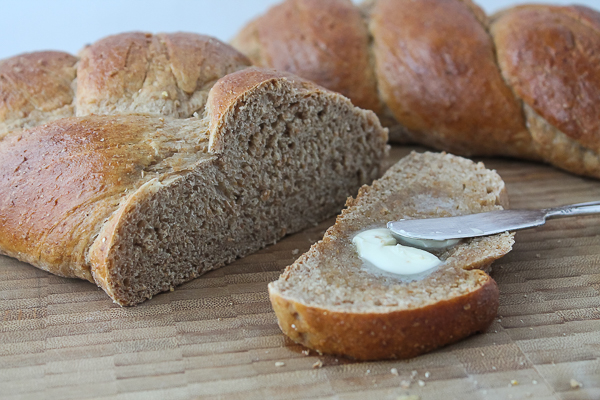 A slice fresh from the oven slathered with butter will have you swooning.  It makes great toast, even French toast, and the bread made into a grilled cheese with smoked gouda was one of the best grilled cheese sandwiches I have ever tasted.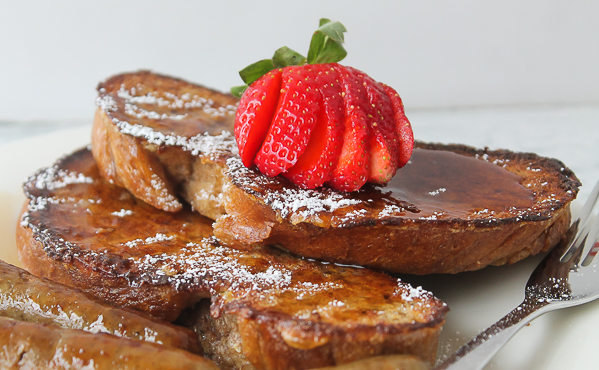 The bread made into French Toast!
I plan on making all of Bert's breads in the coming months, starting with the Hungarian Fennel.  Bert relays the story of his Hungarian nursemaid he had as a child, who bragged in her broken English about the "vunderful breasts of Budapest" every time they sat down to dinner!  See, I told you Bert could make you laugh..

Apple Butter and Honey Whole Wheat Bread
Author:
Bert Greene from Sphere Magazine January/February 1978
Ingredients
2 packages active dry yeast
1 Tablespoon sugar
2 cups warm water (105 to 115 degrees) divided use
½ cup apple butter (commercial or homemade)
¼ cup butter, melted
2 Tablespoons honey
1-1/2 Tablespoons salt
3-1/2 cups whole wheat flour
2 to 2-1/2 cups all-purpose flour
Cornmeal for dusting
1 egg beaten with 1 teaspoon water
Instructions
Dissolve yeast with sugar in ½ cup of the warm water in a large bowl; let stand until bubbly, about 10 minutes. Stir in remaining water, the apple butter, melted butter, honey, and salt. Beat in the whole wheat flour, 1 cup at a time, and enough of the all-purpose flour to make a workable dough, but not too stiff. Turn dough onto floured surface and knead in enough of the remaining flour until dough is smooth, about 10 minutes. Shape dough into a ball and place in a buttered bowl. Cover and let rise in a warm place until double, about 1-1/2 to 2 hours.
Punch dough down; divide dough into 2 parts.* Divide half into 4 parts; roll each part into strands 12-inches long. Braid 4 strands loosely; tuck ends under. Place braid on baking sheet sprinkled with cornmeal. Repeat step with remaining half of dough. Cover; let rise until double, about 1 hour.
*Tip: To make 1 large loaf, divide dough into 4 parts, proceed as directed in step 2.
Heat oven to 425 degrees F. Brush loaves with egg mixture and bake for 10 minutes. Reduce oven temperature to 375 degrees and bake until loaves sound hollow when tapped, about 22-25 minutes. Remove to wire racks.
Note: Bert says to spray the loaves with a mist of water the moment they go into the oven, and repeat the process after 3 minutes of of baking time. I did this and they were perfect in the end,