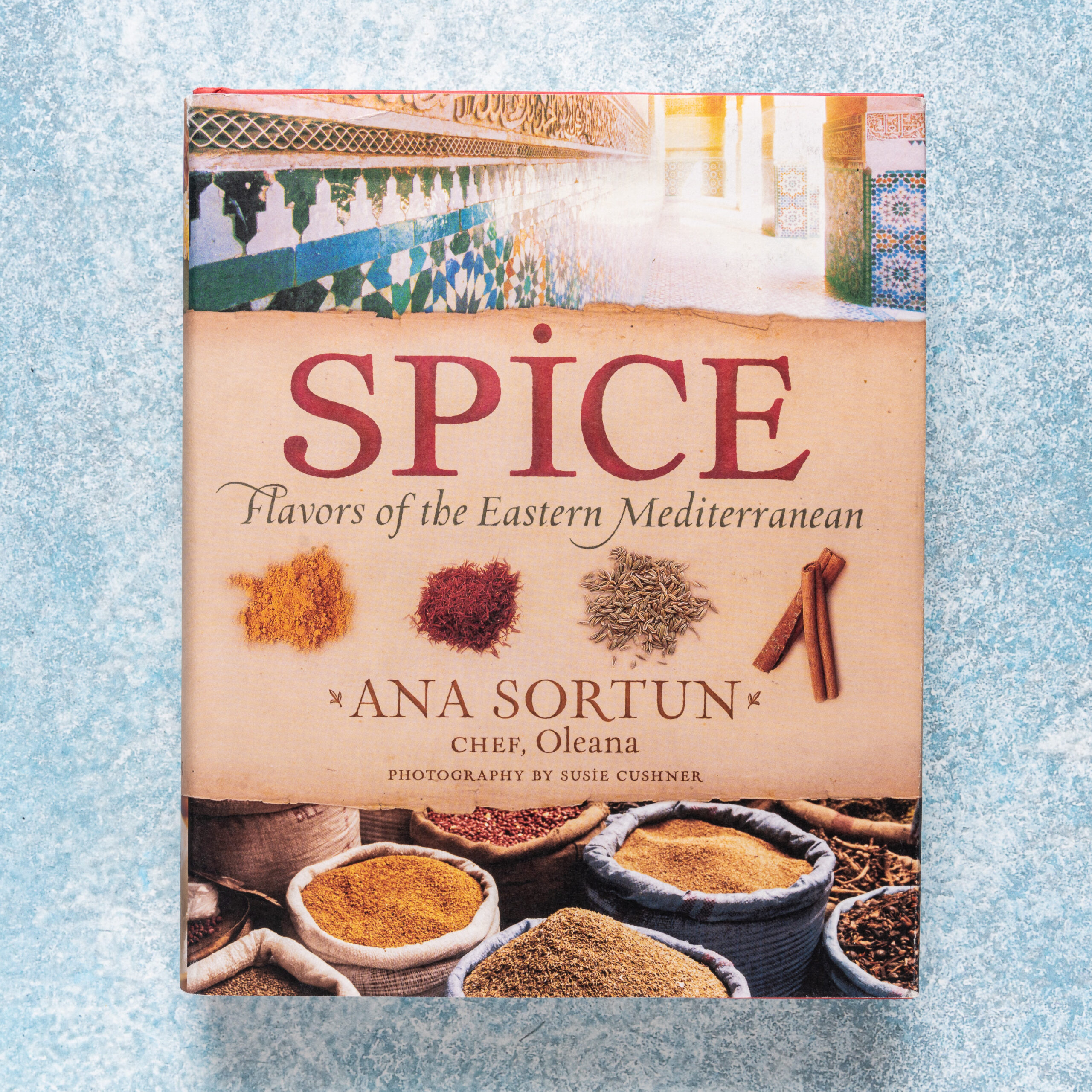 When chef Ana Sortun embarked on a trip to Turkey when she was a young woman, she learned traditional Turkish cooking from local women.  Upon returning to Cambridge, Massachusetts she was inspired to open her own restaurant, Oleana, and create her own interpretations of what she learned using the spices and herbs in the eastern regions of the Mediterranean.
Sortun was trained at LaVarenne in Paris where she learned classic regional French cooking, where butter and cream are used to add richness and flavor to a dish, and to always use fresh high quality ingredients.  Back in the states she learned from a Tunisian-born chef a deeper understanding of flavors.  Upon other travels to Turkey she learned how the use of herb and spice blends extracted maximum flavors in cooking.  Hence the title of her cookbook, Spice.  Even the chapters of her cookbook are organized by Spices and Herbs.  My favorite chapters are Cumin, Coriander, and Cardamom; Allspice, Cinnamon and Nutmeg; and Parsley, Mint, Dill, and Sweet Basil.  There are so many more, each leaving those flavors with the taste of them in your mouth by just reading the words.
In the Poppy, Nigella, and Sesame chapter one recipe captured my attention.  It was a hummus, which I love, but this one made with parsnips, one of my favorite root vegetables.  Hummus means "chickpea" in Arabic, but Sortun likes to experiment with other ingredients such as white beans, avocados, pumpkin, squash, and parsnips.  In this recipe the parsnip purée is flavored with the traditional garlic, lemon, cumin, and tahini but with more flavor than chickpea purée.  I loved it!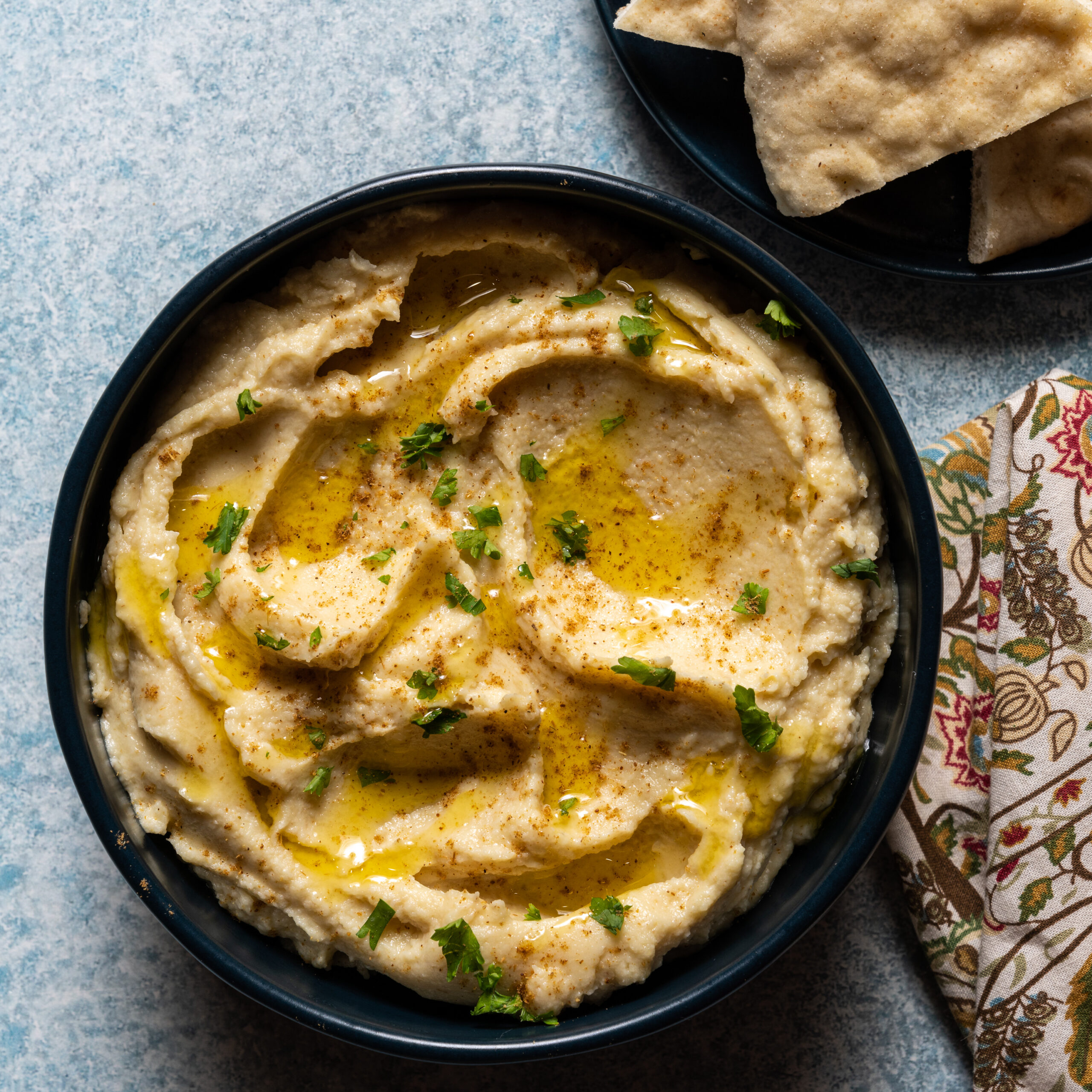 The parsnip purée is made separately from a small amount of tahini sauce.  Sortun likes to spread the parsnip hummus on a platter or in a bowl, make a well in the center, then fill it with the tahini sauce made from the dark-roasted variety from Tohum for a color contrast.  If you don't happen to have the dark tahini, which I didn't, it can be combined with the parsnips before serving, drizzled with olive oil, sprinkled with chopped parsley, and lots of warm pita bread.  Besides being so incredibly good, cup for cup parsnips have less carbs than chickpeas.
I will be making this again and again.

Creamy Parsnip Hummus with Parsley
Author:
Spice by Ana Sortun
Ingredients
For Tahini Sauce:
¼ cup tahini (dark-roasted variety if available, or just regular tahini)
¼ cup extra-virgin olive oil
¾ teaspoon ground cumin
¾ teaspoon chopped garlic (about 1 clove)
1 teaspoon freshly squeezed lemon juice
Salt and pepper to taste
For Parsnip Hummus:
1 pound parsnips (about 6 medium or 4 large) peeled and cut into 1-inch cubes
Water to cover; and reserve 1 Tablespoon water after parsnips are cooked
1 Tablespoon chopped garlic (about 3 cloves)
¼ cup freshly squeezed lemon juice
4 Tablespoons butter, cut into small pieces
¼ cup extra virgin olive oil
2 teaspoons ground cumin
Salt and pepper to taste
½ recipe of above tahini sauce
2 Tablespoons chopped fresh parsley
Olive oil to drizzle, optional
Warm pita bread, to serve
Instructions
Prepare tahini sauce: Place all tahini sauce ingredients in a blender and blend until smooth. Season with salt and pepper. Set aside while preparing parsnip hummus.
In a medium saucepan, cover the parsnips with water and bring to a boil over high heat. Reduce heat to medium and simmer for 20 minutes or until parsnips are very tender when pierced with a fork. Drain the parsnips in a colander reserving 1 Tablespoon of the cooking liquid.
Transfer the parsnips to work bowl of a food processor fitted with a metal blade. Purée the parsnips with the 1 Tablespoon reserved cooking liquid, garlic, lemon juice, butter, olive oil, and cumin until smooth and creamy, for about 3 minutes, stopping to scrape the sides of the bowl a couple of times.
Season the purée with salt and pepper. Spoon into a serving bowl and cool to room temperature. Using the back of a large spoon to create a well. Spoon ½ of the tahini sauce into the center of the well. You can also just stir it into the hummus. Drizzle with olive oil if desired (I love it that way!) and sprinkle with chopped parsley. Serve with warm pita bread, torn into pieces for dipping.
Note: The recipe calls for using half of the tahini sauce. The rest can be saved for another batch. However, I found that the hummus tastes even better the next day, so I stirred in the other half of the tahini sauce the next day and it was delicious. Either way, it's wonderful!