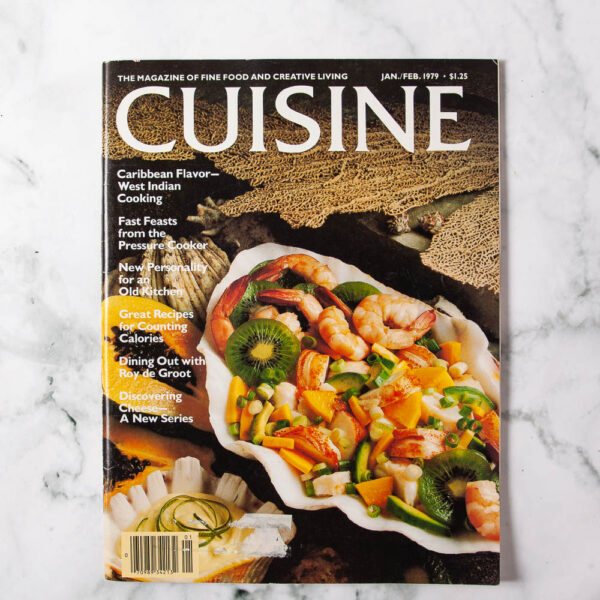 Here it is!  The first issue of Cuisine magazine from 1979!  I am so excited to be writing about every issue, just as I did for Sphere magazine.  The recipes are amazing.  If you loved Sphere, you will love Cuisine too.  Actually, it will seem like you are still reading Sphere.  Not much as changed, as least not yet, thank goodness.  Same editor, contributors (To my delight, a Bert Greene article on Cheese!), layout, and continued great recipes.
First article is called "Super and Slimming," which didn't surprise me as just about every women's and food magazines have low calorie recipes to help with the New Year's resolution to lose weight, followed by a decadent chocolate recipe for Valentine's Day that leaves the January good intentions in the dust.  True today as it was in 1979!  One of the slimming recipes is for a Japanese Fondue that sounds delicious and of course, healthy.  Others are a spinach-stuffed turkey breast, Chinese Shrimp and Peppers, Winter Fruit Melange, Tequila Sunrise Sherbet, and more.
A lengthy article on "Caribbean Pleasures" about many of the islands plus at least eight recipes for tropical drinks and punches, and a Virgin Island menu suggestion with a West Indian pot roast, a dish called "Kallaou" which has in its ingredient list a ham bone, smoked pig tails, salt pork, haddock, spinach, onion, chile peppers, garlic, and thyme.  (I can't even imagine the taste or look of this!)  Other recipes include a homemade Creole seasoning, a molded banana salad, Mango Chiffon Pie with a coconut-graham cracker crust (sounds delicious!), party meatballs (using the Creole seasoning), stuffed eggplant, baked red snapper with ground almonds, and "Sweet Potato Dream" which is a baked casserole of sliced sweet potatoes combined with pork sausage, onions, brown sugar, pineapple juice, orange juice, and currants, and a topping of chopped cranberries mixed wth orange peel and pulp, and sugar.  It sounds like an interesting alternative to the usual sweet potato casserole with marshmallows! There are pages and pages more – too many to write!
"Fast and Easy Cookery" is an article all about using pressure cookers, which could probably be used in today's trendy Insta Pots.  Recipes are for a quick San Francisco-style crab cioppino, a ham and cheese crustless quiche, a "Great Cassoulet of Toulouse," Quick Crab Custard, Boston Brown Bread, Corn-Stuffed Pork Chops with Pickled Peaches, Alsatian Sauerkraut with Pork Chops, Sausages with Lyonnaise Potato Salad, Clam-Stuffed Cherry Tomatoes, Spaghetti Sauce alla Bolognese, Peppermint and Pistachio Fluffy Custard, and French Cherry Custard.
Do you own wooden molds and cookie stamps?  There is an article with cookie dough recipes that are made to use specifically for them to provide proper texture and consistency of dough.  The recipes include sugar cookies, peanut butter cookies, shortbread, molasses cookies, gingerbread cookies, and even one recipe for a Creamy Cheese Spread for an appetizer.
The recipe I decided to make from this issue is for an Herbed Roast Loin of Pork because I wanted to serve it with the rice pilaf that I posted on my previous blog.  They were so good together!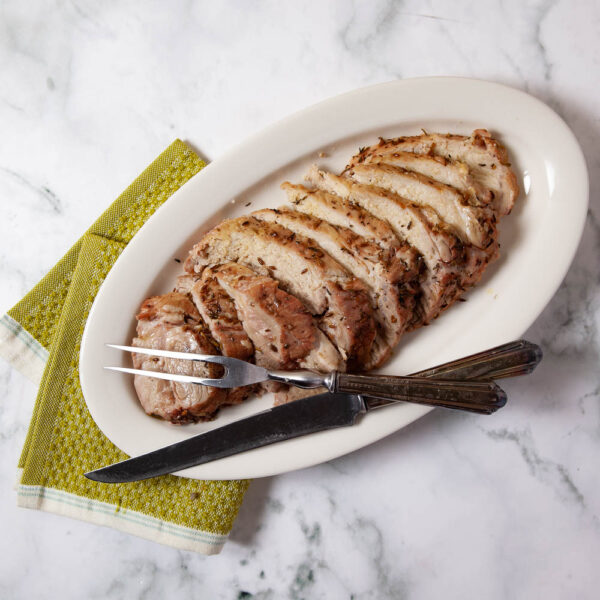 The roast is rubbed all over with a cut garlic clove, then sprinkled with salt, pepper, dried thyme leaves, and caraway seeds.  The roast is set on top of an even long line of sliced onions in a roasting pan.  Not only does this add so much flavor (and the aroma!) but don't discard those onions.  Put them in a separate pan when the roast is done and sauté in juices from the pan and a little butter if needed.  Oh my, are those ever good.  I loved this roast that has quickly become a keeper.
This was a great issue of the first Cuisine with many issues to go from 1979 to 1984!  I am so excited to write about each and every one.  This issue was a January/February but next is just March.  Wait until you see the cover.  Let's just say chocolate decadence!  There goes the diet…
I hope you like the roast pork, and the pilaf, both perfect for winter cooking.
Herbed Roast Loin of Pork
Author:
Cuisine Magazine January-February 1979
Ingredients
1 pork loin roast, (5 to 6 pounds)
1 large clove garlic, split in half
Salt
Black Pepper
1 large onion, peeled and sliced
1 teaspoon dried thyme
1 teaspoon caraway seeds
Instructions
Heat oven to 325 degrees F. Line a roasting pan with nonstick foil; set aside.
Rub the roast all over with with garlic clove. Sprinkle both sides with salt and pepper.
Place the sliced onions down the middle in prepared roasting pan. Lay roast on top of onion slices. Sprinkle roast with the thyme and caraway seeds.
Roast, uncovered, for 20 minutes per pound of pork, until the meat reaches an temperature of between 130 and 135 degrees for medium rare, 145 degrees for medium well. (I referred to the chart that was included in my meat thermometer. Always go by temperature not time).
Remove roast from oven, cover with foil, and let rest for 15 minutes. The temperature will rise as it rests.
Slice and serve hot. Makes about 10 servings.
Note: I used a smaller roast, not quite 3 pounds, so I cut the amount of herbs in half. It took less than an hour to roast and the meat was so juicy and just perfectly pinkish.