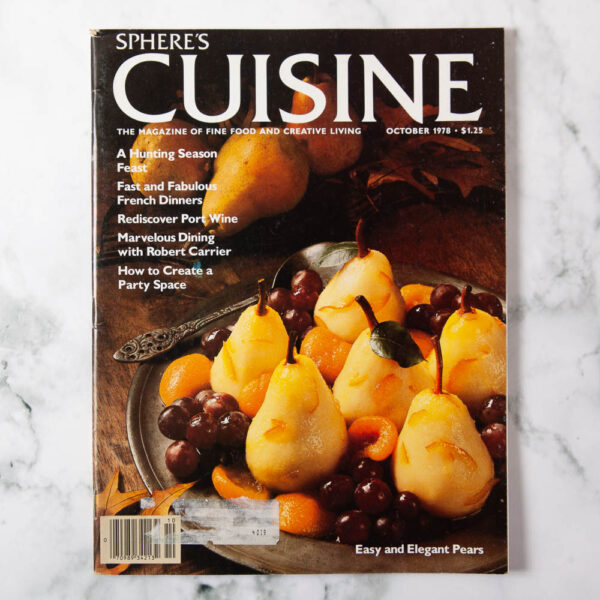 For my Sphere magazine enthusiasts, you will notice that the Sphere as we knew it, changed its name to "Sphere's Cuisine" as of this October 1978 issue.  It went by this name for the next two months, then officially changed the name to just "Cuisine" starting the very next month with the January/February 1979 issue.  The magazine still had the old Sphere feeling, layout, and great recipes, and with some of the same staff, at least for a time.  I loved Cuisine but it met a surprising ending 1n 1984 when it was still very popular. But again like Sphere, I get requests for Cuisine recipes because they were so memorable and wonderful.
This issue has recipes from "Cornish Country" in Wisconsin including Cornish pasties, Bread Pudding with a Caramel Sauce, Figgyhobbin, and Saffron Cake.  From Wisconsin, the next article travels to Hintlesham Hall in England where Robert Carrier developed some of the finest recipes for his restaurant in this stunning Tudor manor.  The article about Carrier, the history of the manor, and of course the food is fascinating.  Sauteéd Lamb with Flageolets, Guinea Fowl with Juniper Berries, Mrs. Moxon's Lemon Posset, Little Summer Fruit Towers, Herb Salad of Hinklesham, Roman Vegetables, and Chicken Fricassee are among the impressive fare.
We next move to "French Dinners without Fanfare" from Madeleine Kamman consisting of a fish menu starting with a country salad, Cod in Fennel Butter, zucchini with raisins and almonds, an onion-rye bread, ending with Apricot Upside-Down Cake.  A chicken dinner begins with a tomato and pepper salad with cream mayonnaise, Chicken with Cheese served with Spaetzle and Glazed Carrots, and Oranges with Raspberries for dessert.  What she calls an "Everyday Dish" is garlic soup, cauliflower-tomato-red onion salad, calf's liver with a tarragon-vinegar sauce, green beans with parsley butter, and for dessert a peach and bourbon clafouti.
Since this is a fall issue, the season's wealth of game offered a fabulous "Hunter's Bounty" menu to feed a huge crowd.  It begins with a Double Pheasant Consomme, followed by poached salmon, Wild Goose Quenelles, Rabbit Stew, cucumber sorbet, Saddle of Venison Baden-Baden, Stuffed Vension Shoulder, celery root salad, and Raspberries Romanoff along with some glazed pears for desserts.
So how's all that in one single issue? Amazing right?  But in the end to select a recipe to try as I have no access to pheasant, rabbit, or venison, I settled on a simple and delicious rice dish.  Why?  Because of my new announcement:  I have written blogs for almost every single issue of Sphere (still need to do a few), and I wanted to do the same monthly features for "Cuisine" magazine that started with the 1979 January/February issue as I mentioned before.  And in that issue there is a delicious pork roast recipe that was so good with this rice dish.  It's called "Indian Pilaf with Carrots and Raisins." Look for the pork roast recipe and the beginning of my monthly "Cuisine" reports in the next blog this week.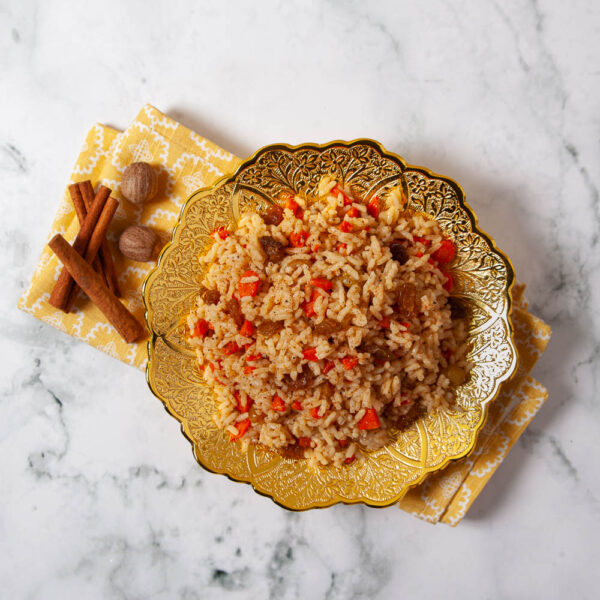 This pilaf was so good and is perfect with pork and lamb roasts.  Its sweetness comes from first making a small amount of sugar syrup, adding hot chicken broth, then in another pan sautéing diced carrots and golden raisins in butter, then stirring in rice to coat along with some cinnamon, cardamom, and nutmeg, then added to the broth and cooked for about 20 minutes.  The aroma is heavenly!  Serve in a beautiful dish and sprinkle the top of the rice with a little more nutmeg.
I'll be making this again.  Maybe having with pheasant?  We'll see…

Indian Pilaf with Carrots and Golden Raisins
Author:
Perla Meyer from Sphere Magazine October 1978
Ingredients
¼ cup granulated white sugar
2 Tablespoons water
3 cups hot chicken broth
1-1/4 cups diced pared carrots
2 Tablespoons golden raisins
3 Tablespoons unsalted butter
1-1/2 cups long grain rice
½ teaspoon table salt
¼ teaspoon ground cinnamon
¼ teaspoon ground cardamom
¼ teaspoon ground nutmeg
Extra nutmeg for sprinkling
Instructions
Mix sugar and water in medium-size saucepan. Heat to boiling. Reduce heat to medium-low and simmer, uncovered, until mixture turns golden, swirling pan frequently. (this could take 10 to 14 minutes). Remove from heat and slowly add very hot chicken broth, whisking constantly until sugar is dissolved. (the sugar may feel hard like it is not going to melt, but it will; just keep whisking vigorously and scraping the bottom. Make sure the chicken broth is very hot). Return pan to heat and keep whisking for 2 to 3 more minutes. Set aside.
In a 2-quart saucepan, sauté carrots and raisins in the butter to coat, then reduce heat, cover and simmer for 10 minutes, stirring a couple times. Add the rice and stir until coated in butter. Stir in salt and spices to coat, then add reserved chicken broth. Heat to boiling, reduce heat to low, and simmer, covered, until broth is absorbed and rice is cooked, about 15 to 20 minutes.
Transfer hot rice to a serving dish and dust with nutmeg. Serve immediately. Serves 6-8. Rice is great with roast pork or lamb.