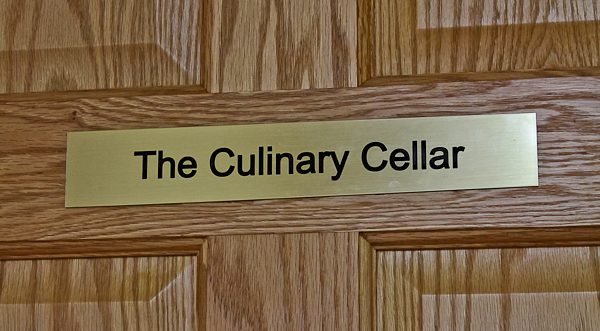 This sign on the door leading to our basement, AKA The Culinary Cellar, has been there for years.  My mom gave it to me for a long ago Christmas gift.  She would be surprised at how many books people sent me after the devastating flood that reached seven feet high and up to the top step of this door.
It's unbelievable how long it takes to start all over, both mentally and physically – and so much money spent for the massive clean-up. But as many of my readers know, I was not about to give up my cellar or my blog.  I could not have done this without you, my readers, and of course my family.
But here is the good news; it's looking new, different, and wonderful.  When a local kitchen and spice shop in our hometown decided to close, they sold everything in the store. They had incredible shelves and cabinets and we bought four of them.  They have been sitting in the basement waiting patiently to be filled and loved.  That's where my daughter Kristina took over recently.  She organized and filled each cabinet.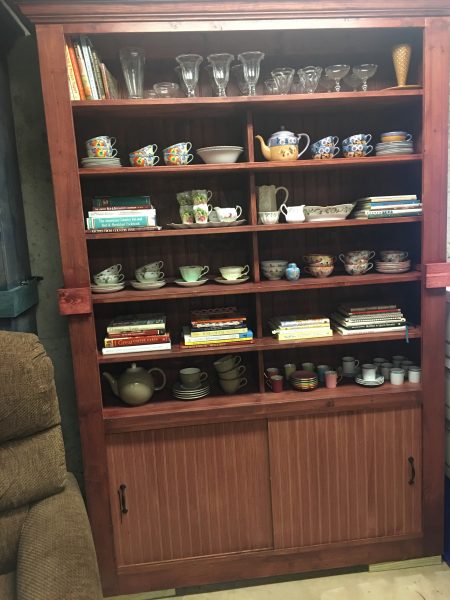 This is the tea and small dish center.  Kristina found the appropriate cookbooks to match the items.  There is even more in those sliding doors.  The teacups are almost all vintage from grandmothers, great-aunts, and sometimes even great-grandmothers.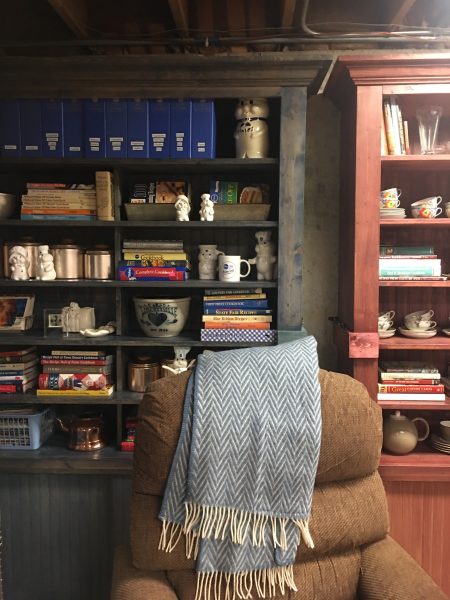 Next to the teacups and dishes is the cooking contest shelf with booklets and clippings from the Pillsbury Bake-Off and other contests.  Notice all the Doughboys.  Almost all of my contest clippings and photos were lost in the flood, but thank goodness I had some upstairs.  The comfy chair was donated by our good friend Del, and the throw is from Finland.  The chair is not in its permanent place yet until we figure out the rest of the basement, but it's a cozy place to sit and look through cookbooks.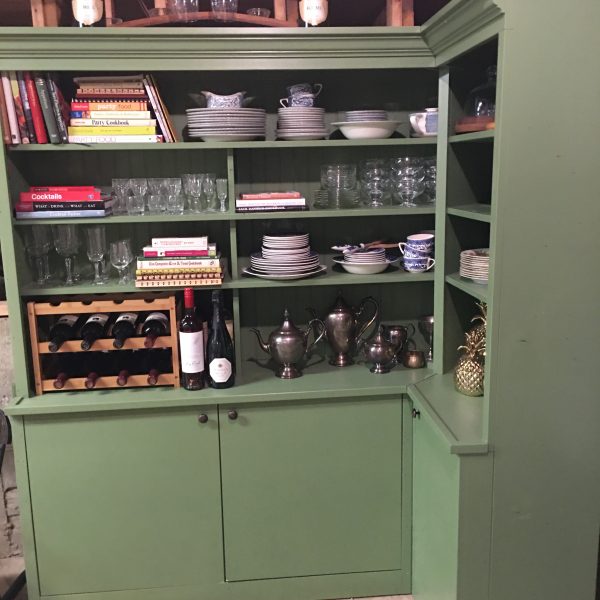 The green cabinet has lots of entertaining items and a wine rack.  I haven't polished my mom's 1960 silver tea service  but I will.  It's beautiful when it's cleaned up.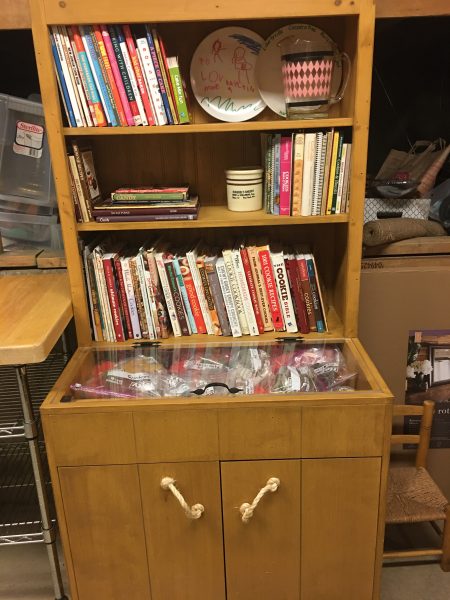 This smaller cabinet is a favorite.  At the kitchen store the clear top that lifts up is filled with cookie cutters, all organized, that I have been collecting since I was a child.  There's even more behind the doors underneath along with all kinds of baking items.  What's fun about this cabinet is that at the store, under the glass top was star anise for sale.  When you lift the top, the aroma hits you right in the face!
We are still working on organizing and shelving the thousands of cookbooks, but here is a peek at the middle section: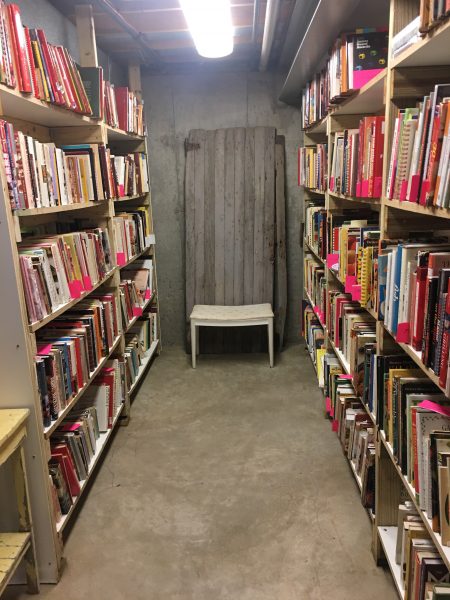 It's a work in progress but remember, below is how this exact area looked after the flood: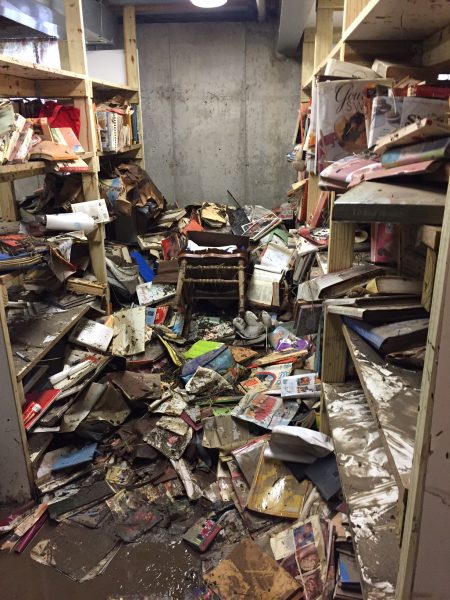 It's still hard for me to look at this, but it happened and life goes on with a new cellar.
When all is done, I would love to have a party.  If anyone comes at the moment, here is what you will see at the bottom of the stairs: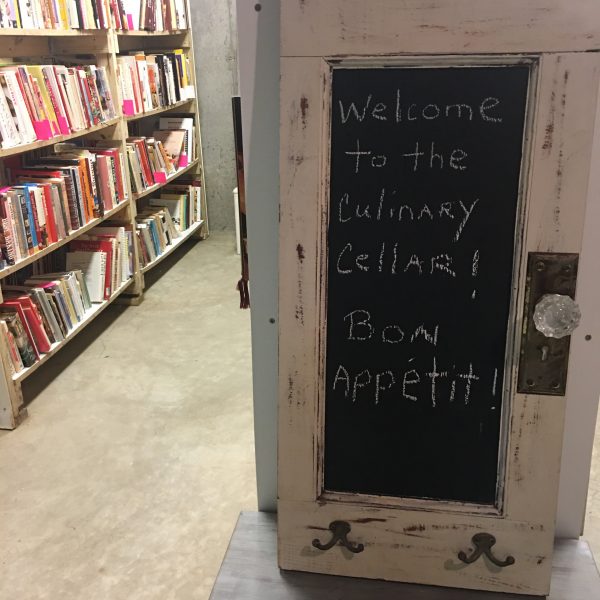 I can't wait for it to be completed, but it's already feeling cozy and welcoming.  I could stay down here all day and look at cookbooks.  Oh wait.  I do…
I know my mom would sit down here with me and enjoy every minute looking at a lot of her old dishes and some cookbooks.  I miss you every day, mom.  You would love it here.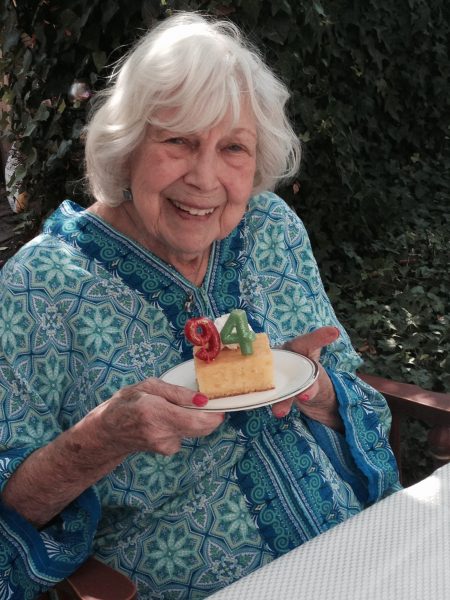 By the way, mom lived to age 97.