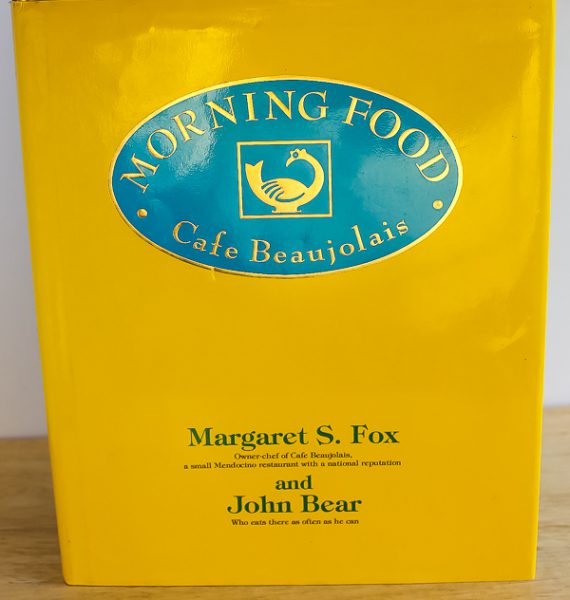 Breakfast will never be the same after reading Morning Food from Cafe Beaujolais.  The Morning Food philosophy says that you don't have to rationalize anything you choose to put in your mouth before noon.  But if you wish to justify this behavior, all you need to do is point out that you are eating some of the same ingredients that other people eat for breakfast; they have simply been put together in a different way.  Instead of just plain cottage cheese, try cottage cheese pancakes.  Mix in some dessert ingredients to make Tropical Waffles with Macadamia Nuts and Toasted Coconut, or add wild rice to whole wheat waffles.  Breakfast Cookies?  They are everywhere now, but in 1977 it was not the norm.  That is what made Cafe Beaujolais so different and so successful.  Margaret Fox was a visionary with her new restaurant, way ahead of her time.  Julia Chid and Robert Redford loved Cafe Beaujolais, as did people all over the country.
Here's how it all began. This homey and charming Mendocino, California home built in 1893 became to be known as Cafe Beaujolais.  It became a culinary destination in 1977 when it was purchased by 25-year-old Margaret S. Fox.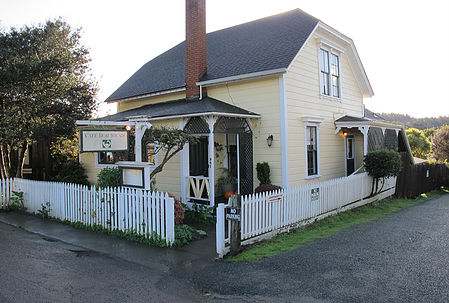 In the beginning the menu was breakfast (or rather, Morning Food) and lunch, and a dinner menu was added in 1984.  In 1990, a brickery was opened and began serving and selling wood-fired breads.  Fox sold the restaurant in 2000.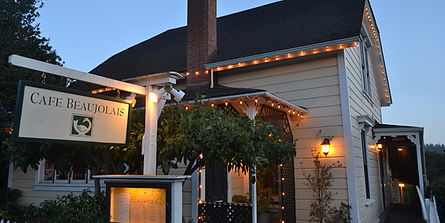 So many still remember Fox's cafe, but you can make some of her great recipes in your own kitchen.  I loved my original Cafe Beaujolais cookbook, and was heartbroken when it was lost in the flood last summer.  But, I have it back again due to the dozens and dozens of people all over the country who sent me cookbooks to help rebuild The Culinary Cellar.  My friend Priscilla (more on Priscilla coming up soon!) sent me the Morning Food book and I have a feeling I will be cooking my way through it as I did with the first book.
The first recipe I wanted to try was the pumpkin pancakes topped with a ginger butter which is simply chopped candied ginger mixed with some softened butter.  The pancakes are made with canned pumpkin, yogurt, and all the spices of pumpkin pie.  What brings it to the next level is the ginger butter then drizzled with warm maple syrup.  There is no describing how good these are.  I know it's pumpkin season now, and everything pumpkin usually disappears until next October and November, but these will be on my menu all year round.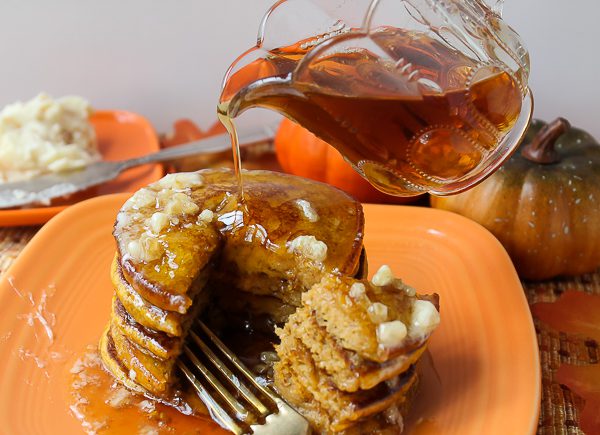 (P.S.  The recipe says to finely chop the crystalized ginger, but I just sort of roughly chopped it because I adore ginger so much and love biting into larger size pieces!  Also, my beloved glass syrup pitcher belonged to my great-grandmother.)
We enjoyed these pancakes over this past weekend, and I'm already thinking about when I am going to make them again.
If you are a morning food person, you must find this cookbook.  There is no other breakfast book quite like it.  Just like there will never be another Margaret S. Fox.

Pumpkin and Ginger Pancakes
Recipe type:
Morning Food from Cafe Beaujolais, by Margaret S. Fox and John Bear
Ingredients
Pumpkin Pancakes:
1 cup white flour
¼ teaspoon salt
2 Tablespoons brown sugar
1 teaspoon baking powder
½ teaspoon baking soda
½ teaspoon cinnamon
½ teaspoon nutmeg
½ teaspoon ground ginger
1 egg, beaten
½ cup plain yogurt
¾ cup milk
¾ cup canned pure pumpkin
2 Tablespoons melted butter
Oil for cooking pancakes
Gingered Butter:
2 Tablespoons finely chopped candied ginger
¼ cup softened butter
Warmed maple syrup, for serving
Instructions
In a medium mixing bowl, sift together the flour, salt, brown sugar, baking powder, baking soda, cinnamon, nutmeg, and ground ginger; set aside.
In a separate bowl, combine remaining pancake ingredients through melted butter. Add the flour mixture and stir until just blended.
Heat a little oil on a griddle until hot. Use about ¼ cup batter per pancake. When bubbles appear on the surface of the pancake, flip over and cook on the other side until golden and cooked through.
Serve with the gingered butter: Mix together the chopped candied ginger and the ¼ cup softened butter. Pass warmed maple syrup to drizzle on top. Close your eyes and take a bite!