With Christmas only a few weeks away, it's time to start thinking of holiday desserts for the season.  If you have never prepared a steamed pudding before, why not try this year?  There are many flavors and size of molds from which to choose, so do a little research.
If you watch old Christmas movies, chances are you will spot a steamed pudding sitting on a table.  They are very old-fashioned yet still made during the holidays because they are so delicious and festive, not to mention your guests will be impressed.  Steamed puddings are also fun to make, but you need to find the right size molds for the recipe you are using.  I have 1-quart, 2-quart, and 3-quart sizes.  The latter two are antiques I found online and are gorgeous!
Two of my favorite all-time cookbooks are the Private Collection and Private Collection 2 from the Junior League of Palo Alto from the early '80's.  I have made almost every recipe in both these books, but had never tried the persimmon steamed pudding in the first Private Collection.  It was time to try it!  I wrote a blog about these books in the very first year of The Culinary Cellar back in 2010.  You can read about it here, but know that my old blogs are in need of updates!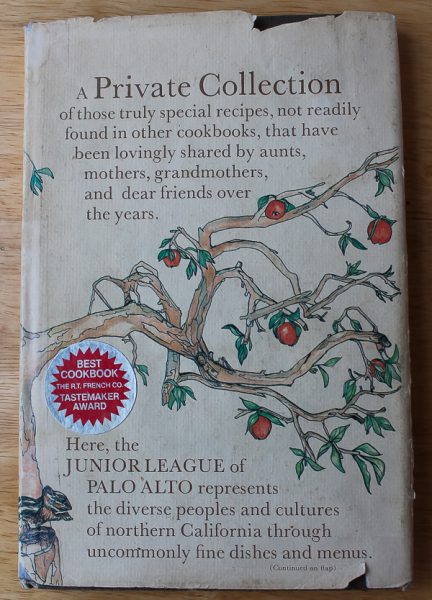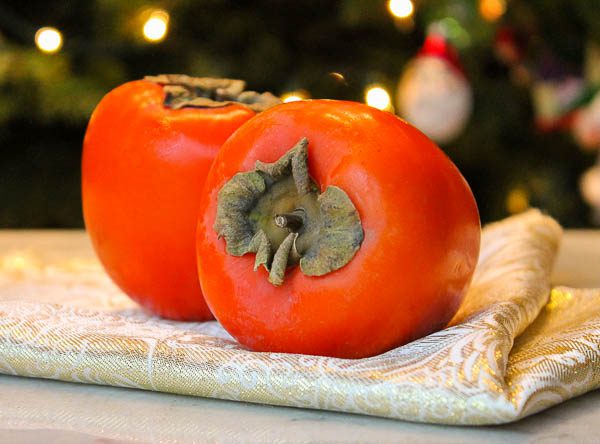 Finding the perfect persimmon is like finding the perfect peach.  Persimmons must be very ripe and the insides look like jelly.  After cleaning and taking off the stem, they are cut into chunks, skin and all, and pureed in a food processor.  The color is stunning, although the color does not come through after steaming the pudding.  It looks more like chocolate when it is done.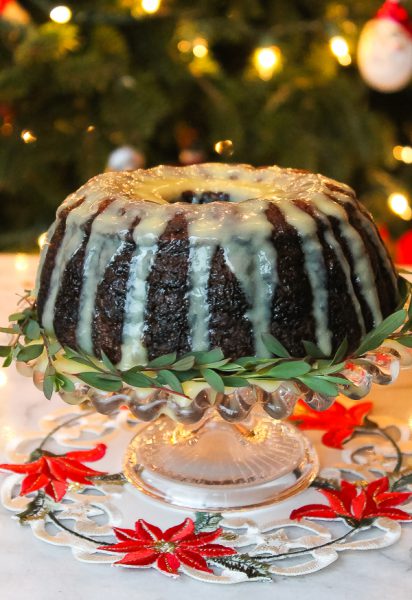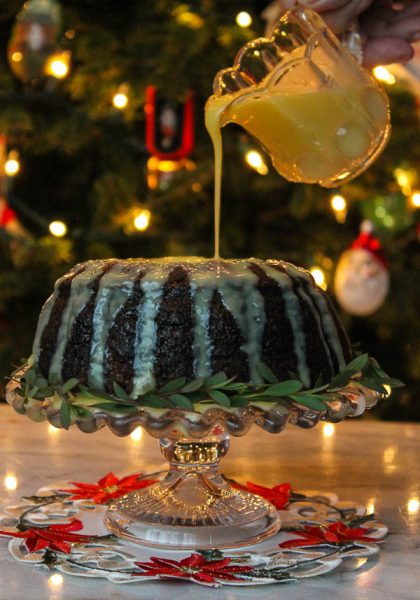 Most steamed pudding are served with a hard sauce, which is just a sweet cream sauce to complement the pudding, with sugar, butter, egg yolks, and usually with sherry or brandy.   How festive does this look? The dessert can also be served flaming at the table if you really want to impress your guests, but it is not necessary.  Enjoy this busy month, and think about a steamed pudding for a change of pace.

Persimmon Steamed Pudding
Author:
Private Collection cookbook from the Junior League of Palo Alto
Ingredients
For Pudding:
1 cup persimmon pulp (about 3 average size persimmons)
½ cup unsalted butter, softened
¾ cup granulated white sugar
1 beaten egg
1 cup sifted all-purpose flour
1-3/4 teaspoons baking soda
1 teaspoon cinnamon
¼ teaspoon salt
½ cup whole milk
1 teaspoon vanilla
For Hard Sauce:
1 cup granulated white sugar
½ cup butter, softened
4 egg yolks, beaten
2 ounces sherry or brandy
Pinch of salt
1 cup heavy cream
Instructions
For pudding:
Remove stems from very ripe persimmons and puree, skins and all, in food processor or blender to make 1 cup. (Persimmons are ripe enough when they feel soft and the insides are like jelly).
Cream butter and sugar until light and fluffy. Add beaten egg. Sift flour with soda, cinnamon, and salt. Add to butter mixture, alternating with milk. Stir in persimmon pulp and vanilla; mix well.
Pour batter into a well-greased, 1-quart mold and snap on the lid, or if there is no lid, cover very tightly with foil. (I highly recommend finding a mold with a lid that snaps on).
Use a kettle or pot that is deeper than the mold. Place a rack on the bottom to support the mold, and fill with enough warm water so as not to evaporate during steaming, usually about one-fourth of the depth.
Cover the kettle tightly and steam on top of the stove for 2 hours (or in a 325 degree oven) letting water just at a simmer. (I prefer stovetop steaming because it's easier to check the water level).
Remove pudding from kettle when done, and let sit until lukewarm, then unmold onto serving dish to be used. If you wish to serve flaming, warm ¼ cup brandy, pour over pudding and light. Pass slices of pudding along with a drizzle of hard sauce, or if you prefer, sweetened whipped cream.
If making ahead, cool, unmold, and wrap puddiing well for storage in refrigerator. It will keep in the refrigerator for as long as two weeks. To serve, wrap snuggly in foil, and re-steam, without water touching foil, until heated through.
For Hard Sauce:
In top of double boiler, with a whisk or electric hand mixer, cream together sugar and butter. When light, add beaten egg yolks, brandy, and salt, beating well.
Heat cream until hot but do not boil. Add slowly to rest of ingredients, continuing to beat well.
Place over boiling water, stirring with a whisk until the sauce is the thickness of cream, but do not allow it to boil.
This stores well in the refrigerator and may be carefully reheated over warm water. (Note: This sauce is also good over gingerbread!)