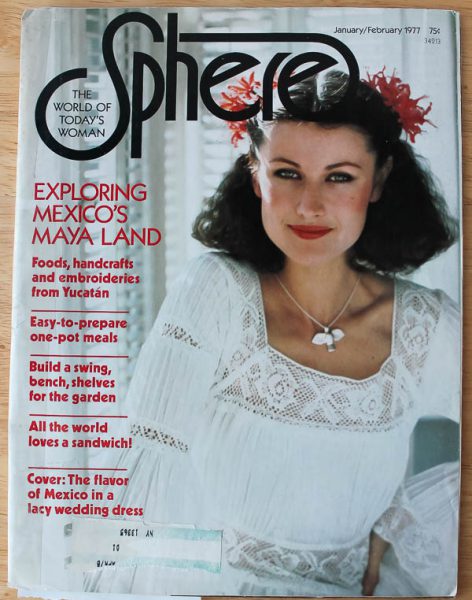 The first article in this issue is a guide to Yucatan, land of the Mayas.  There are pages of history, a guide to Mayan pottery and the ancient earthenware vessels used over 2,500 years ago, the famous white clothing with intricate embroidery, and of course, the food.  There are menus for a meat turnover dinner, a clay-baked pork dinner with instructions how to make the clay yourself.
The next article is about the Doufeu, a heavy French cooking pot designed for use with ice to promote condensation.  This was new to me as I had no idea how to cook with "fire and ice."  The Doufeu is like an enamel-clad Dutch oven, but the lid of the Doufeu is concave and filled with ice cubes before the casserole is heated, either in the oven or on top of the stove.  The vapor that builds up in the pot will fall back onto the food in a shower of fine droplets.  Interesting!
After reading the long Mayan recipes, and about a pot I don't own, I decided to go with something a little more simple and familiar.  How about a big pan of sausage lasagna?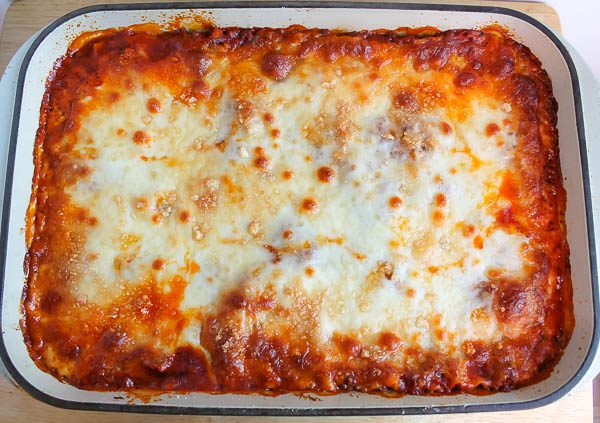 The lasagna recipe featured was comfort food at its best; hot and cheesy, rich with both mild and spicy Italian sausage, and a layer of luscious ricotta.  The mozzarella was sliced, not shredded.   It tasted so good on a cold winter's night.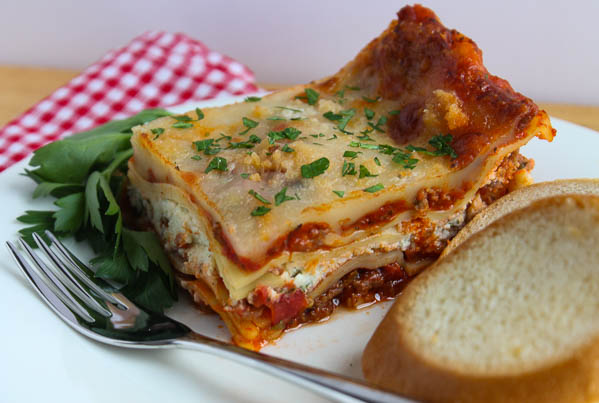 It was the best sausage lasagna I have made.  My husband went wild for it.  The recipe was developed by a minister in Pennsylvania and served to members of his church to lure them to choir practice!  The first time he prepared it, only a few showed up.  When word got around how good the lasagna was, it wasn't long before he had a full choir.  Can we say Hallelujah?

Sausage Lasagna
Author:
Sphere Magazine, January/February 1977
Ingredients
1 pound hot Italian sausage
1 pound mild Italian sausage
¾ cup chopped onion
2 cloves garlic, minced
1 Tablespoon olive oil
1 can (28 ounces) whole peeled tomatoes
1 can (8 ounces) tomato sauce
1 can (6 ounces) tomato paste
2 Tablespoons chopped parsley
1 Tablespoon dried basil
1 teaspoon table salt
1 teaspoon white granulated sugar
¼ teaspoon ground black pepper
8 ounces lasagna noodles
1 Tablespoon olive oil
2 teaspoons salt
4 quarts boiling water
1 pound ricotta cheese
2 egg yolks
2 Tablespoons chopped parsley
1 teaspoon salt
¼ teaspoon ground black pepper
¾ pound mozzarella cheese, sliced
½ cup grated Romano cheese
Instructions
Remove casing from Italian sausage. Cook and stir sausage in a skillet over medium heat until browned. Drain off fat.
Cook and stir onion and garlic in 1 Tablespoon olive oil in Dutch oven over high heat until hot, about 3 minutes. Stir in cooked sausage, tomatoes, tomato sauce, tomato paste, 2 Tablespoons parsley, the basil, 1 teaspoon salt, the sugar, and ¼ teaspoon pepper. Heat to boiling; reduce heat. Simmer, uncovered, until mixture is consistency of spaghetti sauce, about 1 hour.
Add lasagna noodles, 1 Tablespoon olive oil, and 2 teaspoons salt to the boiling water. Boil gently until noodles are tender, 10-12 minutes. Drain; rinse in cold water.
Mix ricotta cheese, egg yolks, 2 Tablespoons parsley, 1 teaspoon salt, and ¼ teaspoon pepper.
Heat oven to 350 degrees F. Pour one-third of the meat sauce into greased 9-by-13-inch baking dish. Layer half of each of the noodles, the remaining meat sauce, the ricotta cheese mixture, and the mozzarella cheese slices on top. Repeat with remaining ingredients. Sprinkle with the Romano cheese. Bake uncovered for 45 minutes. Let stand 13 minutes before serving. Serves 10-12.