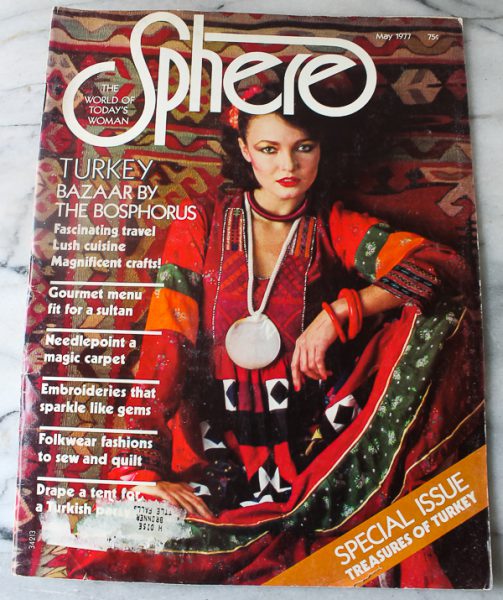 Turkish cooking is not something I make often, but after reading through this issue it will be now!  I selected a recipe with phyllo dough because I love it.  The issue offers so many Turkish recipes in the article titled "Eat like a Sultan."  An extensive dinner party menu included mini phyllo pastries, stuffed grape leaves, appetizer meatballs, toasted pita bread wedges with a chickpea dip, Kalamata olives, sliced melons, spit-roasted lamb, rice pilaf, spinach salad, a huge selection of desserts, and of course, Turkish coffee.  Actually, this is not any dinner party, it's a feast!
There are even instructions on how to make a billowing tent, with fabrics, rugs, and pillows to transform a room or outdoor area into a pasha's lair.  Not only that, but clothing ideas for adults and children to add the intrigue of Turkey and make the party even more festive.  And one step further, how to make a needlepoint "magic carpet" with complete instructions in the magazine.  I can't say enough about this fascinating issue.  The articles including the history of the region, and shopping at the bazaars only adds to the intrigue.
My daughter Kristina was in Instanbul several years ago and brought back several beautiful props for me to use in blogs.  She also returned with the best dates I have ever tasted in my life!  Those are long gone, but I will always have these beautiful dishes and fabrics.  I decided to grace them with cheese turnovers made with phyllo dough, also known as "Peynirli Boreks."  They are so fabulous!
I have a full explanation of the recipe below, and I did have some challenges and suggestions as you will read, but I would make these again in a heartbeat.  They are amazing!  I am not sure I will tackle a tent or magic carpet, but these, I will.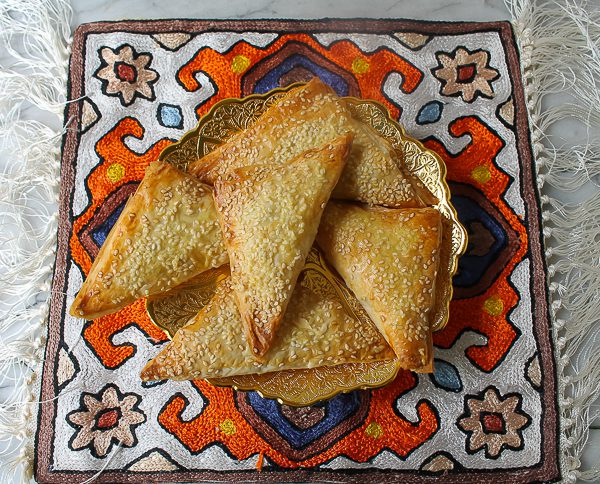 Isn't that fabric gorgeous?  The turnovers are too!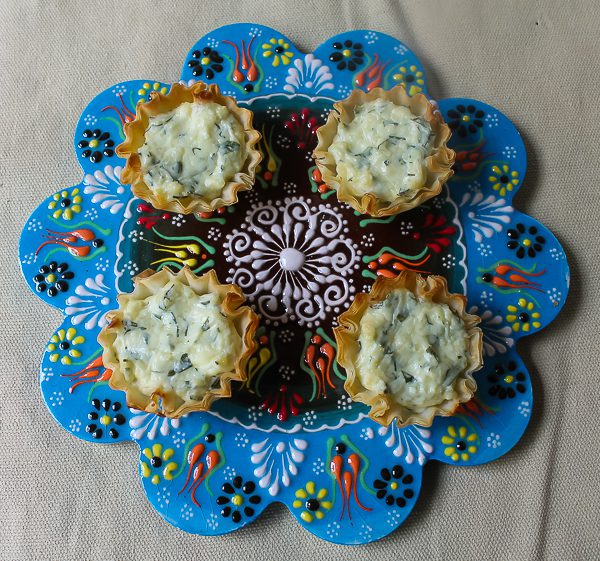 As I mentioned, I ran into challenges with the phyllo dough and came up with an idea for those who find the dough hard to work with, or just don't want to take the extra time to make the triangles.  Instead the delicious cheese filling in simply spooned into those marvelous frozen little phyllo cups.  Takes only minutes to make. I made then with and without the sesame seeds, and found that I preferred them with the seeds.  Not authentic, but still tastes wonderful without the hassle of handling the delicate phyllo dough sheets.  Anyway, it gave me another excuse to show some of the gorgeous dishes from Turkey.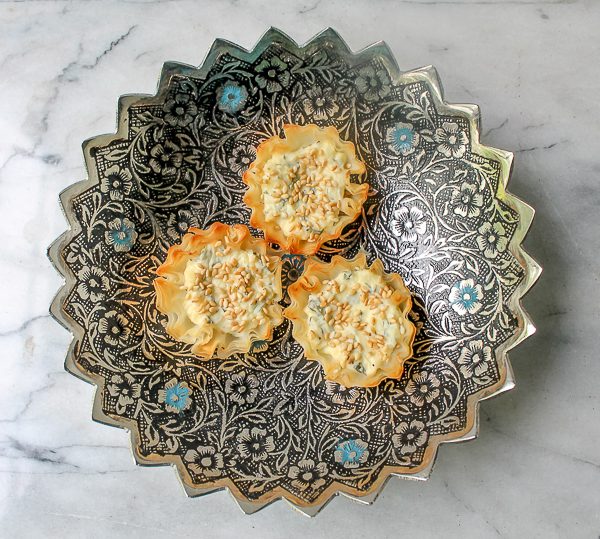 Doesn't this dish look like something out of "Game of Thrones?"  It's very heavy and beautiful, but at the same time, those pointed edges are really sharp!
I forgot to mention, did you know today, June 4th, is National Cheese Day?  These cheese-filled turnovers celebrate the day!
Cheese Turnovers (Peynirli Boreks)
Author:
Sphere Magazine May 1977
Ingredients
Cheese Filling:
1 package (8 ounces) cream cheese, softened
8 ounces Feta cheese
¼ cup grated Parmesan cheese
1 cup snipped fresh parsley
1 egg
2 Tablespoons snipped fresh dill
Phyllo shell:
12 frozen phyllo sheets, thawed
1-/1/2 cups unsalted butter, melted
1 egg, beaten
Sesame seeds
Instructions
Heat oven to 400 degrees F.
Make cheese filling: Mix all cheese filling ingredients together in a bowl until well-combined; set aside.
For phyllo: Place 6 phyllo sheets between barely dampened kitchen towels to prevent drying, Always keep sheets covered after picking up each one.
Place one sheet on clean work surface. Brush top surface with melted butter. Top with 5 additional sheets, brushing each with melted butter before adding another.
Cut layered sheets lengthwise in half. Cut each half into 3 equal pieces, about 6-by-8- inches.
Top each of the 6 sections with about ¼ cup of the cheese filling. Fold dough diagonally over filling to form a triangle. Repeat procedure with reserved phyllo leaves and remaining cheese filling. 7. Place turnovers on baking sheet. Brush tops with with beaten egg, then sprinkle with sesame seeds.
Bake 15 minutes. Remove from oven and brush again with egg. Return to oven for an additional 5 to 10 minutes or until golden. Serve immediately. Makes 12 turnovers.
IMPORTANT NOTE: When I have found phyllo dough in the past, the box was very long and probably the size sheets called for in this recipe. All I could find was a 1-pound box with smaller sheets. They worked fine, but the turnovers were smaller. Follow the same directions except after cutting the dough lengthwise, cut the two sides into equal sized pieces, about 4-1/4-inch. Also, some people find phyllo dough sheets cumbersome and hard to handle, so I came up with an alternative idea - using the frozen phyllo cups instead of sheets. All you have to do is fill the frozen cups (do not thaw) with the cheese filling, sprinkle with sesame seeds (or leave out if you don't like them) and bake at 375 degrees for 12 to 14 minutes or until golden and serve. They taste just as good and much easier, plus they make an easy to pick up and eat appetizer.