Mary Hawkes is an award-winning competitive cook.  The last time I saw Mary was at the National Beef Cook-Off in Sonoma, California, in 2009.  Mary won the grand prize of $25,000 for her "Sonoma Steaks with Vegetable Bocconicini."  My daughter Kristina won her category and $10,000 for her "Orange Chipotle Skirt Steaks."  One of the reasons competitive cooks love this hobby is the opportunity to meet others with the same love of cooking, sharing recipes, and most importantly, developing lifelong friendships with fellow competitors.  Kristina and I enjoyed seeing Mary and others we knew from past contests. They are like family reunions!
Mary sent this great stack of books, including the Pillsbury book from one of the competitions.  She has won many awards over the years and is well-known for her creative recipes.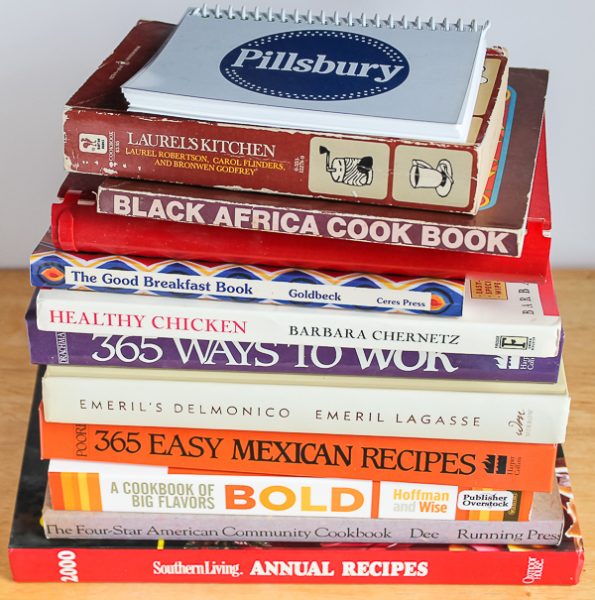 The first one I read was the Good Breakfast book.  I love a good breakfast, and while sweets like cinnamon rolls are delicious and fun to make, a healthy breakfast is better.  This cookbook is filled with creative ideas and some are healthier twists on classic recipes.  There are recipes for hot cereals, yogurt and soy dishes, eggs, waffles, pancakes, morning snacks, breakfast breads, healthier coffee cakes, vegetarian dishes, vegan, dairy-free, egg-free, and wheat-free.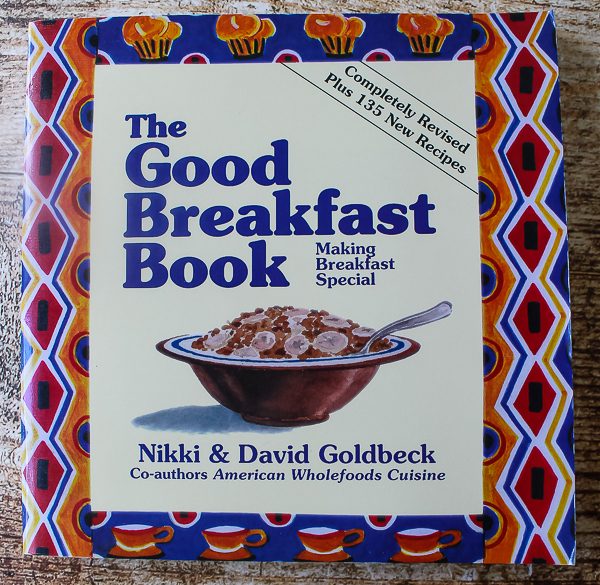 There was an intriguing recipe for a breakfast bread pudding.  Bread Pudding is usually a very delicious and very fattening dessert, so to have it for breakfast got my attention.  This version includes whole grain bread cubes, blueberries, honey, wheat germ, and milk plus some dry milk powder.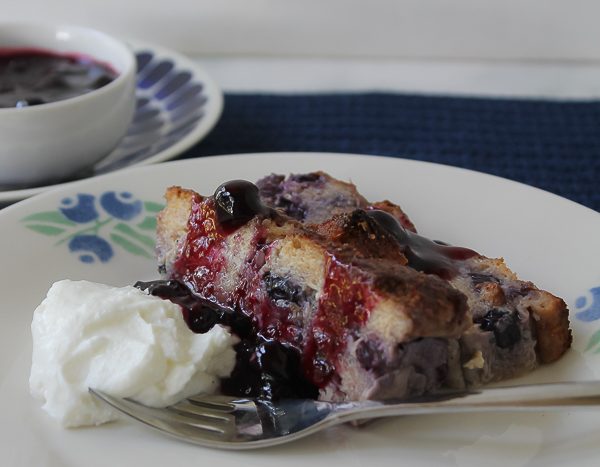 The ingredients are mixed and placed in a loaf pan, refrigerated overnight, then sliced for breakfast the next morning.  Since my husband loves blueberries I added the blueberry sauce, which is optional but really good.  I also added the dollop of Greek yogurt which was also a nice addition.  I haven't tried any other berries yet, but I'm sure it would be good with another, maybe raspberries.
Thank you, Mary, for all the wonderful books.  I'll be enjoying them for a long time to come!

Blueberry Breakfast Bread Pudding
Author:
The Good Breakfast Book by Nikki & David Goldbeck
Ingredients
For Bread Pudding:
Butter for greasing pan and dotting on top
2 cups whole grain bread cubes
½ cup fresh blueberries
2 cups milk
2 Tablespoons nonfat dry milk powder
2 eggs
¼ cup honey
⅛ teaspoon salt
1 teaspoon vanilla
1 Tablespoon wheat germ
¼ teaspoon cinnamon
For Blueberry Sauce (optional):
½ cup granulated sugar
¼ teaspoon cinnamon
⅛ teaspoon nutmeg
1-1/2 teaspoons cornstarch
½ cup water
1 Tablespoon lemon juice
1-1/4 cup fresh blueberries
To serve alongside:
Greek Yogurt (optional)
Instructions
Heat oven to 350 degrees. Line an 8-by-4-inch loaf pan with nonstick foil, and butter the foil. Or you prefer, use 6 greased custard cups instead of the loaf pan. Set them in a pan surrounded by hot water and bake for about 30-35 minutes.
If using the loaf pan, combine the bread and fruit and scatter in prepared loaf pan. Beat together the milk, milk powder, eggs, honey, salt, and vanilla. Pour over the bread in the pan and dot with butter.
Combine the wheat germ and cinnamon and sprinkle over the top. Bake for about 50 minutes or until a knife inserted about 1-inch from the middle comes out clean. Cool to room temperature, then cover and refrigerate overnight.
To serve, slice like bread and serve as is, or add a drizzle of blueberry sauce and a dollop of Greek yogurt. (my preferred way!)
For blueberry sauce (optional): In a saucepan, combine the sugar, cinnamon, nutmeg, and cornstarch.Stir in water and lemon juice. Heat to boiling, then reduce heat to simmer. Add blueberries and simmer 5 minutes, stirring frequently, until thickened.
To serve, place slices of bread pudding on plates, drizzle with some blueberry sauce, and add a dollop of yogurt alongside.