In my earlier blog, I wrote about the best pastrami sandwich and other items that our family had shipped from Katz's Delicatessen in New York City.  Today I want to bring you a whole new place to explore with the best fried chicken you will ever eat.  You can't mail order it like Katz's, but instead you will have to travel to rural Mississippi to the town of Lorman.  It is a polar opposite place from the city that never sleeps.  The over 100-year-old "Old Country Store" is in the middle of nowhere.  It couldn't be more different from New York City life.  But what an experience it is.
My daughter Kristina and I were in Mississippi in November to celebrate the first birthday of my granddaughter Helen, my other daughter Kara's second child.  A couple days after the party, Kara said we should go on an adventure to taste the best fried chicken in Mississippi.   Kara, Kristina, Helen, two-year old Virginia Rose, and I piled into the car and hit the road on the scenic Natchez Trace Parkway.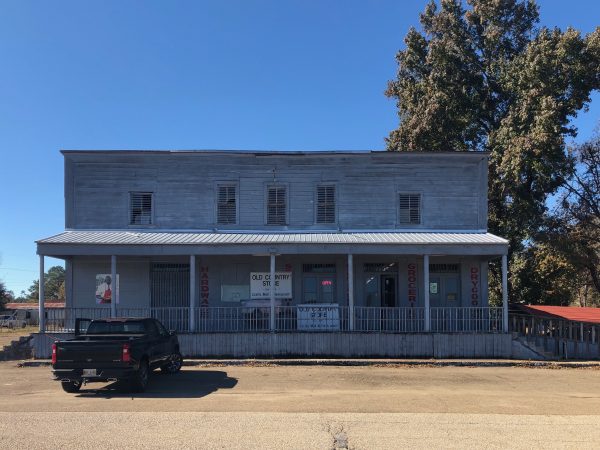 After about an hour we pulled off the remote highway and into the front of this Old Country Store that looked every bit as old as its over 100-year-old age, but very charming and inviting.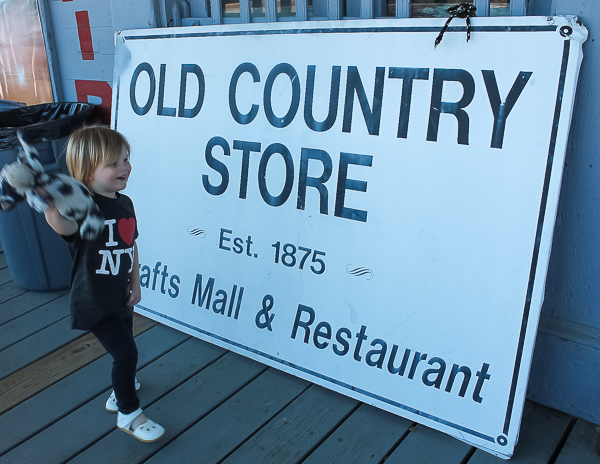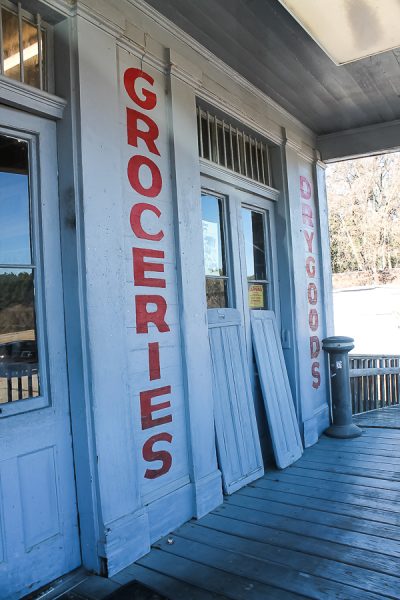 Inside was like stepping back in time, not only with a large restaurant but an emporium of vintage items, all for sale.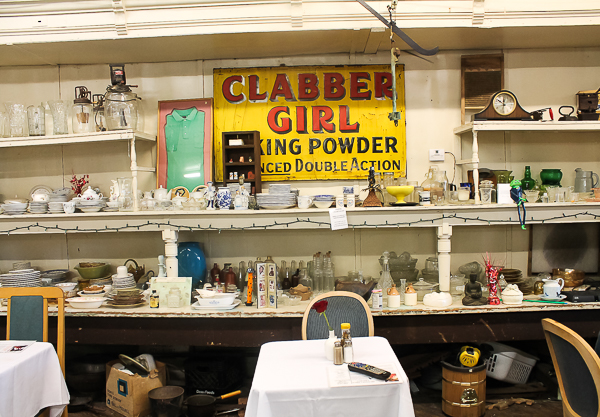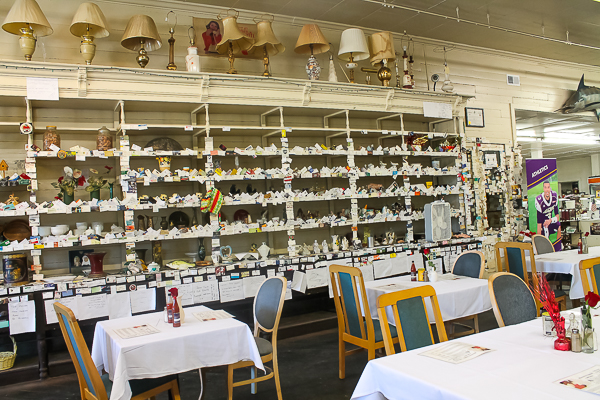 After we settled into our table and spent some time exploring the shelves, it was time to hit the buffet.  I have never seen such an offering of true Southern food.  The all-you-can-eat buffet includes the famous fried chicken, catfish, ribs, salad, potato salad, coleslaw, mac and cheese, corn-on-the-cob, turnip greens, dirty rice, field peas, sweet potatoes, cornbread, and a variety of cobblers.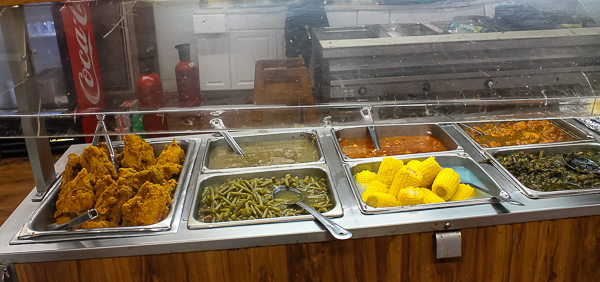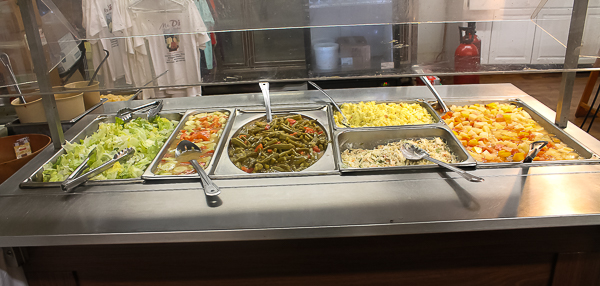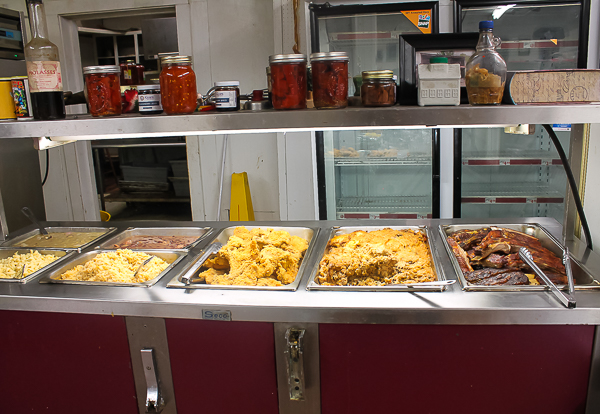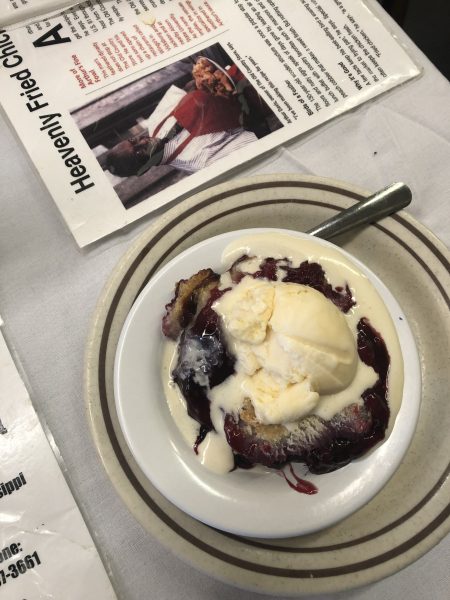 The food is everything you would want a taste of Southern food to be, and more.
But that chicken.  Oh, that chicken.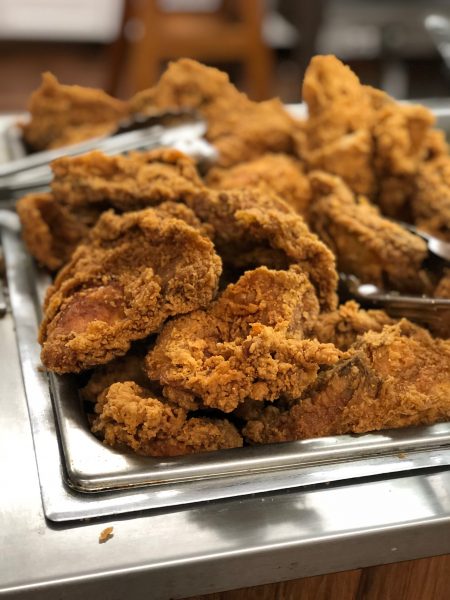 This may look like fried chicken you have seen a million times, but wait until you take a bite.  The first bite into the chicken is so crispy, it can be heard crackling across a room.  It shatters into your mouth along with  exceptional moistness and is not at all oily.  The only thing you can think about is having the next bite. And another piece. And another piece.  I have never had such good fried chicken.  Ever. Ever.
All of the food, the atmosphere, and everything you see is from Mr. Arthur Davis, known as "Mr. D."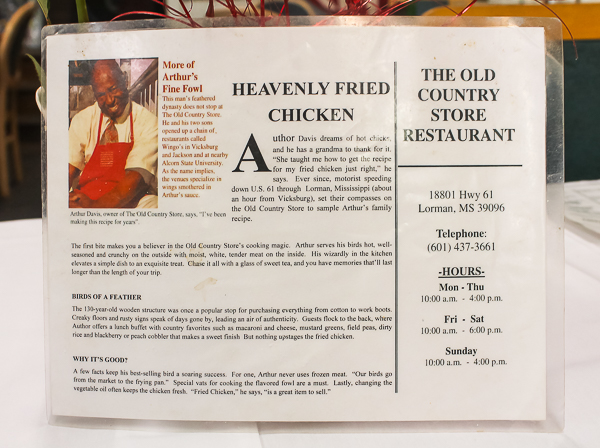 Mr. D.  purchased The Old Country Store in 1996, after a visit to see his sons in college.  At the time it was a struggling restaurant and on the verge of closing.   Mr. D fell in love with the building which formerly was a post office and mercantile, and actually did little to remodel it.  He liked it just the way it was.  He started with hosting parties and serving food just once a week.  When word spread about his famous fried chicken, the rest is history and now the restaurant is open seven days a week.  The fried chicken and cornbread are his grandmama's recipes, and he comes around to the tables singing to the guests about how  "Grandma was the Cornbread Queen."
Mr. D. came right to our table to greet us, singing his song, and then a special song just for Virginia Rose and Helen. Virginia Rose had to introduce Mr. D to her favorite stuffed animal, Moo, that she carries everywhere.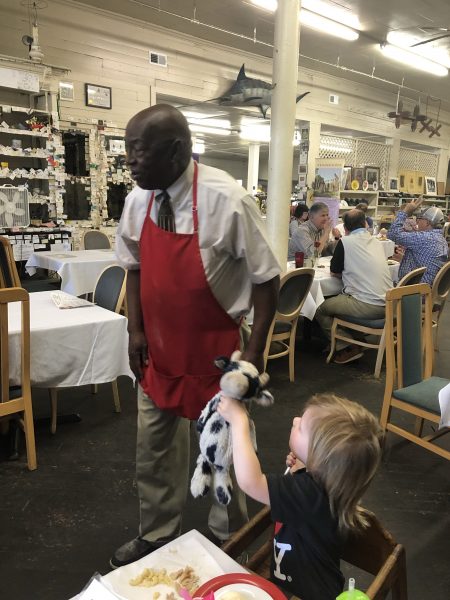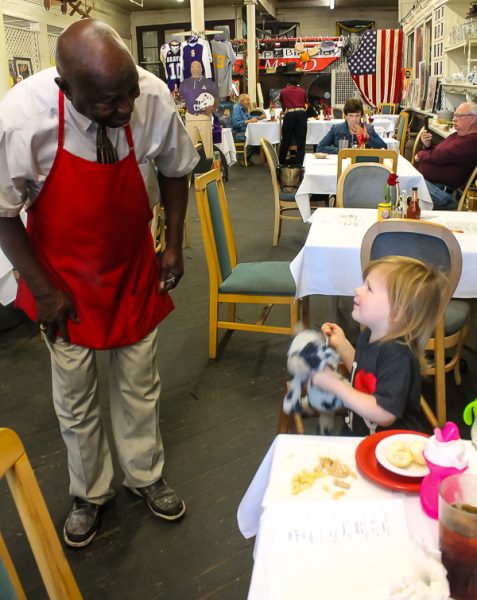 Virginia Rose was completely taken with Mr. D.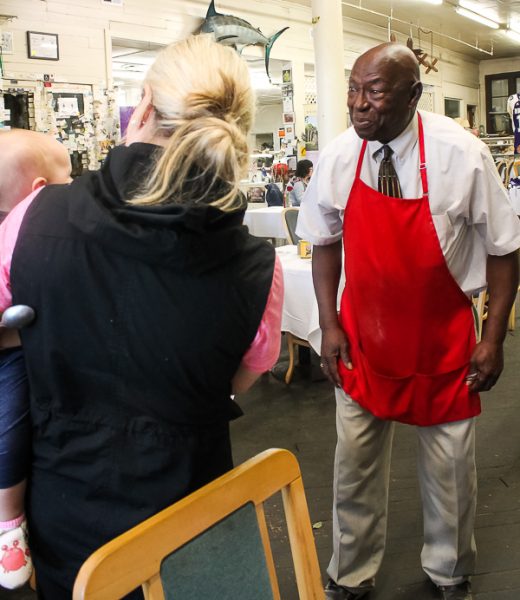 Then he met Helen!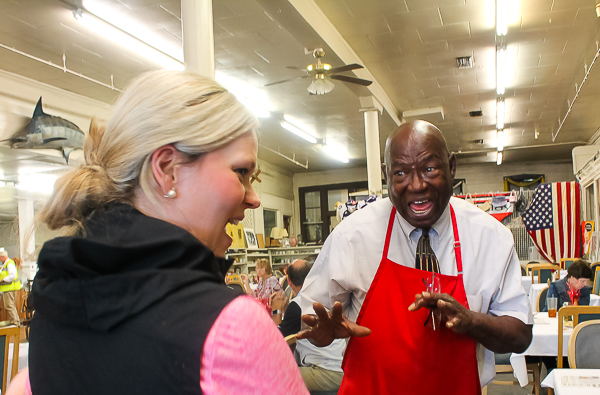 We had the best time with the fabulous Mr. D.  It was hard to leave but we shall return.
If you think I am exaggerating, you must watch the video from the Food Network's Alton Brown who also sings the praises of Mr. D.'s fried chicken.  He also declares it the best fried chicken he has ever tasted.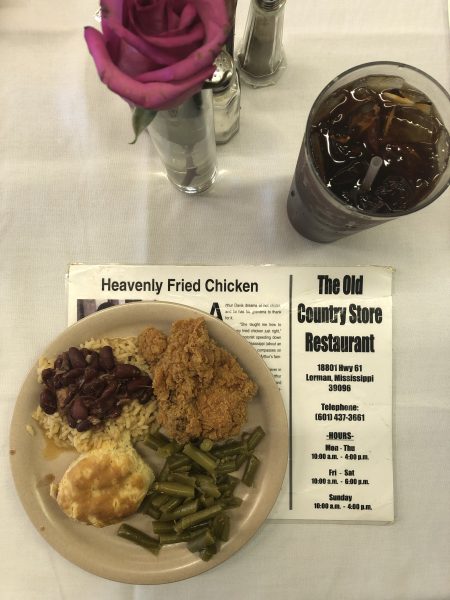 Come try it for yourself.  You won't be sorry.  Only sorry when you have to leave.  Then you will dream about it like I did.  Now I must go plan my next visit to see my granddaughters and convince Kara we must return to Mr. D's place.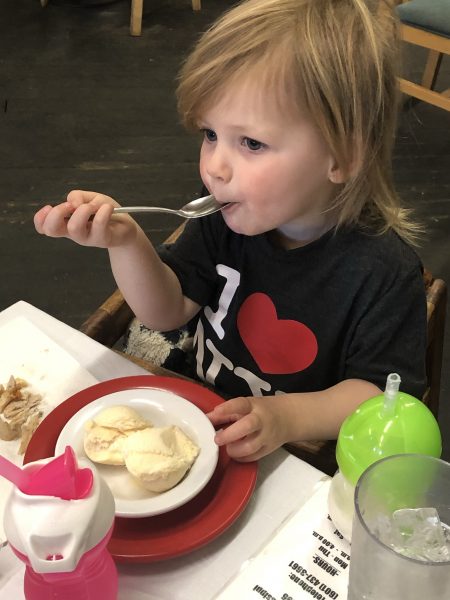 Besides, Virginia Rose wants more ice cream too.