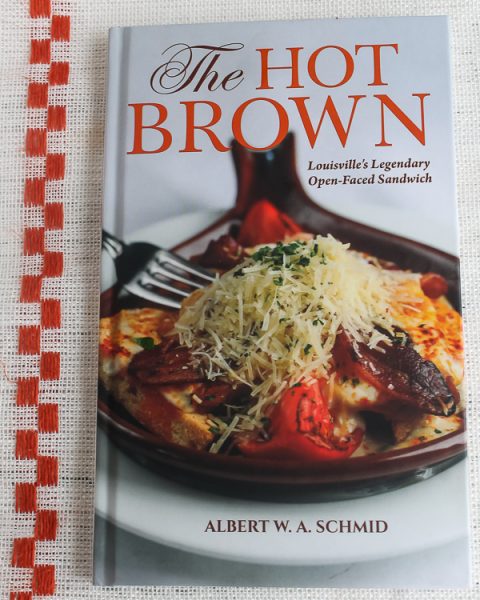 A warm oven sandwich tastes so good on a cold winter's day, like today in the Chicago area.  My daughter Kristina bought me this lovely cookbook while in Louisville, Kentucky on a media event.  The book even came with the perfect pan to make an oven sandwich, specifically "The Hot Brown," a specialty open-faced sandwich made famous at the Brown Hotel in Louisville.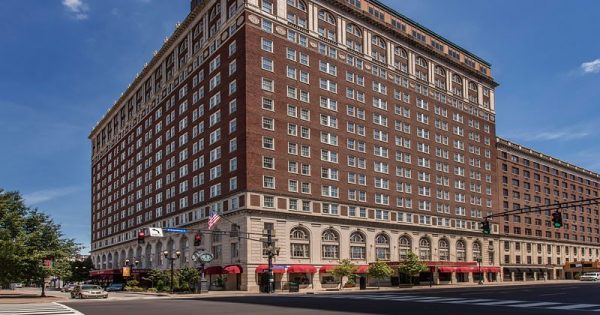 The historic Brown Hotel was founded in 1923 and still thriving today with a 4-Diamond ranking.  It is one of the first choices of people visiting Louisville on business or for the Kentucky Derby.  While at the hotel, guests enjoy the famous Hot Brown Sandwich, a culinary creation developed during Prohibition that helped put Kentucky on the map.  Speculation is that the sandwich was possibly invented for guests who, after dancing on the rooftop of the hotel, wanted something warm and filling to eat.  It became an instant success.
The original Hot Brown began as turkey on bread, covered with Mornay Sauce, and topped with tomato wedges and two slices of bacon.  You can read the original recipe here. The original sandwich is still served at the hotel, but also it developed a life of its own with copycats and creative new ways to make a Hot Brown.
This informative cookbook has the history of the sandwich and many variations to enjoy, such as a Hot Brown Casserole, appetizer, Benedict, as a wrap, burger, hash, pasta, cornbread, hot dog, Cajun-style, Chow Mein, and the one I chose to make, the Italian Hot Brown.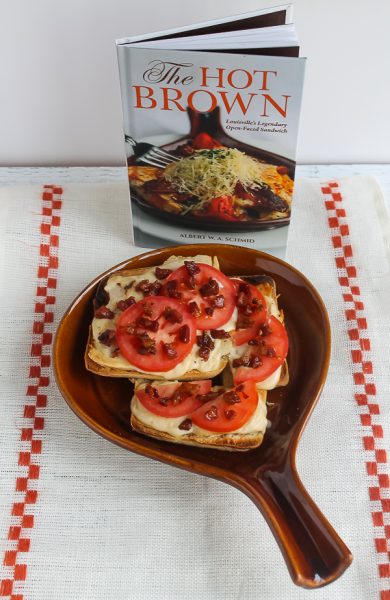 I love the pan that was included with the cookbook!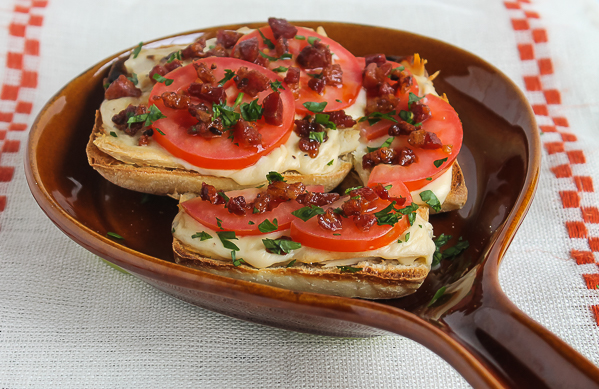 The recipe for the Italian Hot Brown replaces the bacon with pancetta and Alfredo Sauce instead of the original Mornay Sauce.  It was delicious, comforting, and perfect to warm up on a cold day.
If you love hot sandwiches, find this wonderful little book and enjoy all the variations.  I think this was the first cookbook I have seen with a pan attached, and I use it for other meals too.  I love it!

Italian Hot Brown Sandwich
A variation on the original Hot Brown Sandwich from the Brown Hotel in Louisville, Kentucky.
Ingredients
2 pounds smoked turkey, shredded
4 to 6 ciabatta bread buns
8 to 12 ounces pancetta, cooked until crisp
4 Roma tomatoes, sliced
4 cups Alfredo Sauce (jarred sauce is fine)
Instructions
Slice the ciabatta buns in half lengthwise. Place in an oven-proof dish and and toast under the broiler until lightly browned.
Top each with the turkey and Alfredo Sauce, Return to the broiler until warm. Remove from oven and top with the tomato slices and pancetta pieces. This serves from 4 to 6, or make an individual serving in the sandwich pan, as I did. Serve immediately.