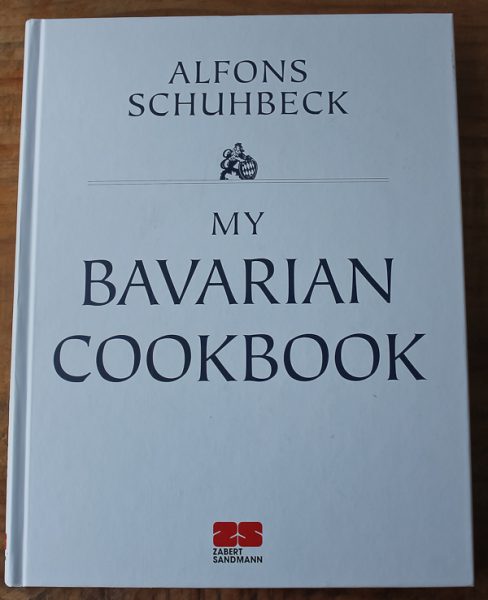 When I found this book at my favorite monthly library book sale, I almost put it back.  All the measurements were in grams or ounces and had to be weighed.  I usually avoid those, mostly because I get lazy and don't feel like converting into cups and teaspoons.  But then, on page 177, the stollen jumped out at me.  You see, I get on missions where I try to find the best recipe for something I love.  At this time of year, I have made it stollen.  I  made such a beautiful stollen the last couple of years, that I almost stopped looking for another recipe.  But then I heard about the Dresdner Stollenfest in Dresden, Germany and I've been obsessed ever since, not only about finding the best stollen recipe but also making it one of my life goals to someday attend the Stollenfest in Germany.
I have been finding many recipes for stollen since I began my quest, some recipes dating back centuries.  Stollen in general is filled with nuts, currants, raisins, candied citrus, fresh citrus zest, rum, eggs, and lots of butter.  It is either dusted (sometimes doused heavily) with powdered sugar, and sometimes as in the case with the stollen here, covered in vanilla sugar.  I actually now can't decide which I prefer.  The recipe in this incredible cookbook called for using stollen molds, which I didn't know anything about.  I googled it and found stollen molds at a site called Pastry Chef Central.  Some stollen recipes do not require molds, the dough is simply folded over.  Click on my stollen link I mentioned above to see what I mean.  Stollen looks beautiful either way.  I love the fun of trying both.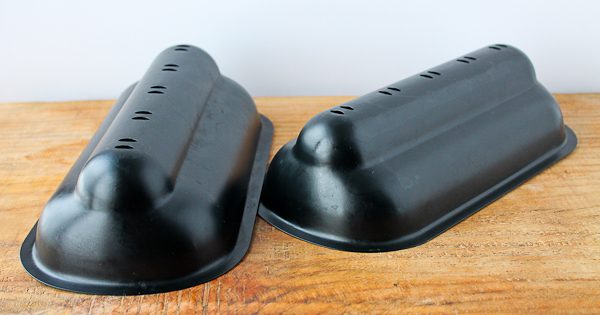 I also learned that some stollen molds have lids but I couldn't find those.  These molds worked beautifully.  The dough is placed in buttered and floured molds then placed flat side down on a parchment-lined baking sheet, or the dough can be placed first on the baking sheet then the molds simply placed on top of the dough.
The recipe is long and involved but so worth it in the end.  I have tried to share all the little details I discovered along the way.  One thing I didn't master the first time, at least in this one loaf, is getting the marzipan rope right smack dab in the middle!  My daughter Kristina said she liked it a little off-center as it looked "artistic" so I'll go with that!  I didn't even cut the second loaf because it got wrapped and put in the freezer for Christmas.  I always like to see if things freeze well.  I'll find out at Christmas if I got the second loaf with the marzipan right in the middle.  Either way, it tastes heavenly.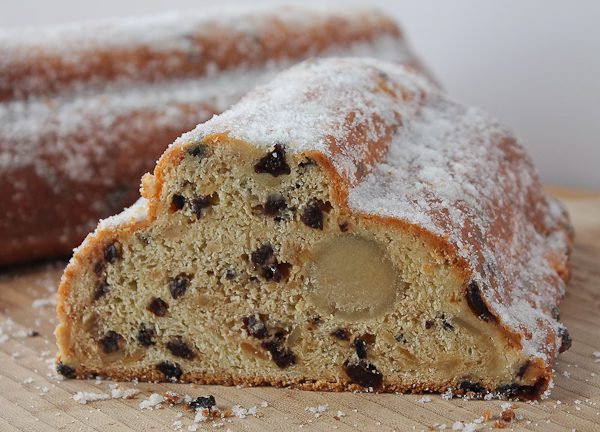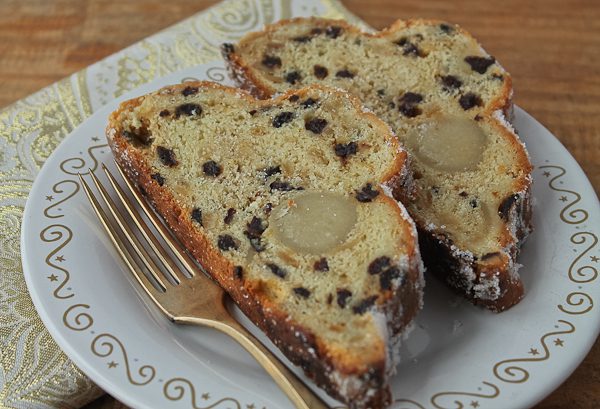 After the success of the stollen, I am looking forward to many of the other recipes in the cookbook even if it means going through the conversion process again.  The other chapters of the book are Snacks & Starters, Soups & Stews, Pasta & Noodles, Fish & Seafood, Meat, Poultry & Game, Vegetables & Side Dishes, and Pastries & Desserts.  The recipes are unique, fresh, and combinations that sound so intriguing.  One starter recipe called Obatzda with Pears and Croutons got my attention right away, first of all because I was not familiar with the spicy cheese mix known as obatzda.  It consists of a chopped fresh pear mixed with green onion, Camembert, cream cheese, heavy cream, pear brandy, salt, cayenne, ground caraway seeds and a little browned butter.  Serve it with bread, pretzels, whole grain rolls, and radishes.  And this is just the first chapter.  The Spaghetti with Lettuce Pesto sounds so fresh and amazing.  I can almost smell the arctic char baked in foil with parsley, dill, ginger, garlic, lemon, and butter.  I think the Roast Beef Tenderloin with Cardamom Butter will be on a Christmas week menu, maybe served with the Kale and Savoy Cabbage with Horseradish.  And the dumplings!  Potato dumplings, bread dumplings, pretzel dumplings, and some very interesting "napkin" dumplings.  Don't even get me started on the pastries and desserts.  An apple cake to die for, cheesecake with apricots, Bavarian doughnuts, several kinds of mousse, and a special kind of plum pie called Zwetschgendatschi.  Don't ask me how to pronounce it.
Before I give you the recipe, I have to tell you a funny story that happened while I was taking the stollen photos.  While I was in the process of taking the photos, a worker was upstairs installing the rods for my new drapes.  He came downstairs to ask me a question and saw my set-up and asked what I was photographing.  I told him it was a stollen.  He looked confused, and said, "Stalin?? Like the dictator?"
Here is the very long and involved but very worth it recipe if you are feeling ambitious or love Stollen.

Christmas Stollen with Marzipan
Author:
adapted from Alfons Schuhbeck's "My Bavarian Cookbook"
Ingredients
For the Fruit Mixture:
(Start making one day ahead)
1-1/3 cups toasted slivered or sliced almonds, chopped
2 cups dried dark currants
⅔ cup dark raisins
½ cup candied orange peel, finely chopped
⅓ cup candied lemon peel, finely chopped
1 teaspoon grated orange zest
1 teaspoon grated lemon zest
1 vanilla bean, pulp scraped out (save pods to make vanilla sugar)*
⅛ teaspoon almond extract
½ cup rum
For the Dough:
⅔ cup whole milk
3.2 ounces fresh yeast cake**
⅓ cup honey
5 cups all-purpose flour- divided
1-1/2 cups cake flour
2 large whole eggs
2 egg yolks
3-1/2 sticks softened unsalted butter (1-3/4 cups)
1 teaspoon salt (to be added to fruit mixture later)
For the Marzipan Filling:
7 or 8-ounce can or package of pure almond paste
¼ cup powdered sugar
Additional ingredients to finish stollen:
2 sticks (1 cup) unsalted butter
About ¾ cup vanilla sugar
Specialty pans needed:
2 Stollen pans; I got mine at PastryChef.com
Instructions
For the Fruit Mixture: A day in advance combine all the fruit mixture ingredients in a glass or ceramic bowl and mix well to combine. Cover tightly with plastic wrap and let stand at least 8 hours or overnight at room temperature, stirring a couple times.
For the Dough: The next day, heat the milk to lukewarm. Pour milk into bowl of electric mixer. Crumble in the fresh yeast cake with your fingers and stir with a small whisk to dissolve. Add honey and stir.
In another bowl, stir together 3 cups of the all-purpose flour and all of the cake flour. Measure the remaining 2 cups of all-purpose flour into another bowl and set aside. Take 1-3/4 cups of the all-purpose/cake flour mixture from the bowl and add to the yeast mixture in the mixing bowl. Mix until the flour is incorporated and has a stringy consistency. Cover the mixer bowl with a tea towel and let rise in a warm place for about 15-20 minutes or until it starts to get bubbly.
Add the remaining all-purpose/cake flour mixture, the eggs and egg yolks, which have been beaten together first, and 1 stick of the softened butter added in pieces. Mix together using the dough hook attachment. Add the remaining butter to the dough, little by little.
Using the reserved 2 cups all-purpose flour that you set aside earlier, sprinkle some on a work surface and scrape out the dough in the mixer bowl. Using floured hands, and more of the flour as needed but keeping a soft pliable dough, knead the dough gently to incorporate in the butter pieces. Knead for about 8 minutes. Form into a ball and leave on the work surface. Sprinkle with a little bit of flour and cover with plastic wrap. Let rise for 1 hour until it has doubled in volume. Save the leftover flour for later use.
While bread is rising, butter the two stollen pans and dust with flour; set aside. Line a large baking sheet (that will fit both stollen pans) with parchment paper; set aside. Also prepare the Marzipan Filling: In a mixing bowl knead the almond paste with the ¼ cup of powdered sugar with your fingers. Keep kneading until the sugar is completely incorporated and then form into a ball. Divide the ball in half. Roll each half into a long rope almost the length of the stollen pans. Set the marzipan ropes aside and cover with plastic wrap so they won't dry out.
Heat the oven to 425 degrees F. After the dough has risen for an hour, stir the 1 teaspoon salt into the fruit mixture and blend well. Using about a handful at a time, knead the fruit mixture into the dough, blending it well and evenly, using up all of the fruit mixture, and using any of the remaining flour on the work surface or on your hands if it gets sticky, but still keep the dough soft and pliable as possible. You don't want the dough to be really stiff.
Divide the dough evenly in half (I weigh mine to have them equal). Form dough into two fat, flat, oval shapes that look like they will fit into the stollen pans when rolled up. Take the marzipan ropes and place one in the middle of each formed dough. Wrap the dough over the marzipan and roll up; pinch seams tightly to seal. Place the stollen, seam side up and place in prepared stollen pans. Carefully place the filled stollen pans, flat side down on the prepared baking sheet so the dough is touching the parchment paper. The air holes will be at the top of the pan. Make sure none of the dough is sticking out the sides of the pan.
Let the dough rise again in the stollen pans for another 15 minutes. While dough is rising, prepare the 2 sticks of butter listed under additional ingredients. Melt the butter over medium-low heat and remove from burner. Let rest a few minutes, and then skim off the white residue on top of the butter to make clarified butter; set aside and have a pastry brush ready. Right before the 15 minutes of rising is up, reduce the oven temperature to 350 degrees F.
Bake the stollen in the pans for 45 minutes at 350 degrees. Remove from oven and carefully lift off one of the pans to see if stollen is done. They should be a beautiful deep golden color with a nice crust. Depending on your oven, it could take another 5 minutes, but mine was perfect at 45 minutes.
When stollen is done, carefully lift off the pans and let stollen cool for just a couple minutes. While still hot, brush both stollen evenly all over with the clarified butter, using it all. Immediately coat both loaves all over with the vanilla sugar. Let loaves cool completely, then wrap tightly in plastic wrap. I found the stollen tastes better and slices better if you wait a day. It seems to get more moist and dense. Slice and serve. Do not refrigerate but keep tightly covered in plastic. I cover tightly in plastic, then place in a jumbo size plastic bag and squeeze out air.
*Vanilla sugar can be purchased at specialty kitchen stores or online, or you can make your own but it must be made a couple weeks in advance. If you happen to be using a vanilla bean for another recipe, after scraping out the contents, save the empty pods. Place the pods in a container with about 1-1/2 cups of granulated sugar, cover tightly, and let sit for a couple weeks shaking it occasionally. The sugar becomes infused and you will have marvelous vanilla sugar. I used purchased vanilla sugar for this recipe, but made sugar from the pods of this recipe, so if I decide to make the stollen again, the vanilla sugar is all ready. Vanilla sugar is also great in other baked goods, on hot cereal, or stirred into tea or coffee.
** The recipe for the stollen in this wonderful cookbook was mostly in grams and ounces. I converted it all to cups and teaspoons to make it easier for you and me. The only thing I did not convert was the fresh yeast cake because I did not want to mess up the yeast in a yeast bread. So the 3.2 ounces of fresh yeast will have to be weighed. Sorry. I bought two 2-ounce packages and weighed out the 3.2 ounces. Since it worked perfectly, I will probably keep doing it that way unless someone out there tackles this very involved recipe and has a better idea. Let me know!