One morning over a month ago, I decided to make some sugar cookies from an old newspaper clipping, given to me by the wonderful Bonnie Slotnick of Bonnie Slotnick Cookbooks in New York City. The recipe was from the great Mary Alice Powell, former food editor of many years at the Toledo Blade.  She wrote in the heading of the recipe, "These tender sugar cookies are often baked for birthday celebrations in the Living Today department at the Blade."
I made the dough, rolled into balls, dipped the tops in sugar and set them on cookie sheets.  I turned on the oven and… no heat…
I called immediately to make an appointment for a service person to come out and was informed, like many people these days, that there was not only a longer than usual delay for an appointment but a delay in getting parts.  For someone who loves to cook and bake and can't live without an oven, this was not fun to hear.  I placed the prepared dough balls in the freezer, not knowing how long they would wait to be baked.
Long story short, I recently got the oven fixed after more than a month and that was just for a simple ignitor switch, not a huge major expensive ordeal.  The repairman told me he had the uncomfortable task of telling people who had greater problems with their ovens, that they would not have a workable oven in time for Thanksgiving.  I heaved a sigh of relief while feeling sorry for those who would not have an oven for one of the biggest cooking days of the year.
Update to the present time, the other day my daughter Kristina came over and asked me if I had any sweets in the house.  It seems her photographer, the amazing Eric Kleinberg of EBK Photo, had a craving for something sweet.  Aha!  The frozen cookie balls in the freezer! Kristina took the container back to their studio and baked them right from the frozen state for Eric.  He loved them and even took a photo for me.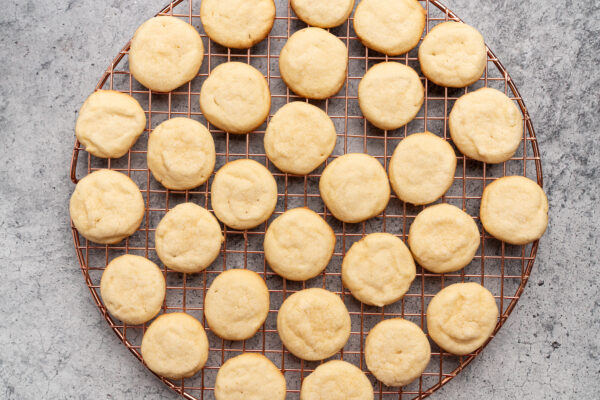 These delicious little morsels just melt in your mouth as they have both granulated and powdered sugar, and part butter and vegetable oil in the dough.
Go view some of Eric's great photos from the link above and follow him on Instagram.  He is a sweetheart in addition to being a first class photographer!

Old-Fashioned Sugar Cookies from the Toledo Blade
Author:
Mary Alice Powell
Ingredients
1 cup unsalted butter, room temperature
1 cup vegetable oil
1 cup granulated sugar
1 cup powdered sugar
1 teaspoon vanilla
2 eggs
1 teaspoon baking soda
4 cups all-purpose flour
1 teaspoon cream of tartar
1 teaspoon salt
Instructions
Heat oven to 375 degrees.
Thoroughly cream butter, vegetable oil, and both sugars. Add vanilla and eggs; beat well.
Sift dry ingredients and mix in. Chill dough until stiff enough to roll into balls.
Roll teaspoonfuls of dough into balls, keeping unused portion of dough refrigerated while prepared balls. Place on cookie sheets and press down each ball with a glass dipped in granulated sugar. Repeat with remaining dough.
Bake about 10 minutes until golden around edges. Let sit on cookie sheet a couple minutes before removing to s wire rack to cool completely. Makes about 8 dozen.l