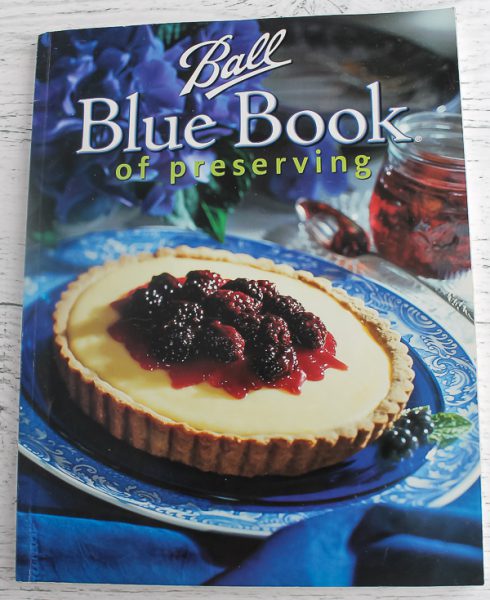 Making jam has always been one of my favorite things to do in the kitchen.  It takes some time but so worth it for gift-giving at Christmas, hostess gifts, enjoying on homemade bread, stirred into some Greek yogurt, or used in desserts like the photo on the cover.  This is one of my favorite canning and preserving books from the experts at the Ball corporation.  There are recipes for jams and jellies, pickles and relishes, condiments and spreads, fruits, vegetables, meats, and more.
When I found gorgeous rhubarb and strawberries at our local Farmer's Market, it was a no-brainer what I would be making – Strawberry-Rhubarb Jam!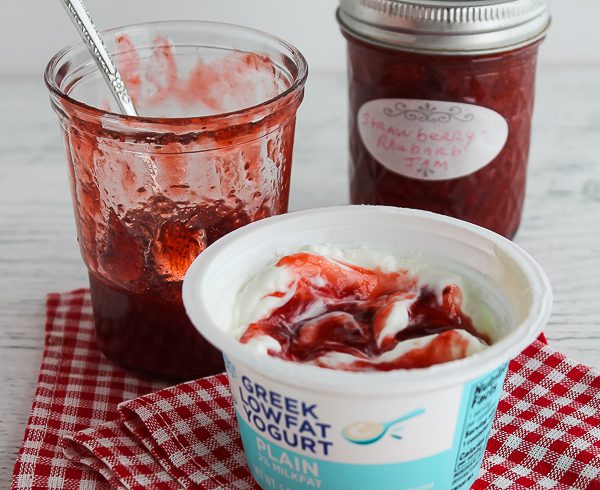 I love homemade jams stirred into Greek yogurt for a breakfast treat or snack.  Next on my list will be a dill relish, blackberry liqueur sauce for an ice cream or pound cake topping, taco sauce, and an herb pizza crust made with fresh thyme, basil, oregano, then frozen into desired size crusts.  When kumquats come into season, I plan on making (for the first time) a kumquat marmalade with orange pulp, orange peel and lemon juice.  Doesn't that sound like it will be a beautiful color?
Strawberry-Rhubarb Jam
Author:
Ball Blue Book of Preserving
Ingredients
2 cups crushed strawberries
2 cups chopped rhubarb (about 4 stalks)
1 package powdered pectin
¼ cup freshly squeezed lemon juice
5-1/2 cups granulated sugar
Instructions
Combine strawberries, rhubarb, pectin, and lemon juice in a large saucepan or Dutch oven. Bring to a boil over high heat. Add sugar, stirring until dissolved.
Return to a rolling boil. Boil hard for 1 minute, stirring constantly. Remove from heat. Skim foam if necessary.
Ladle hot jam into hot, sterilized jars leaving ¼-inch headspace. Adjust two-piece caps. Process for 10 minutes in a boiling water canner. Makes about 6 half pints.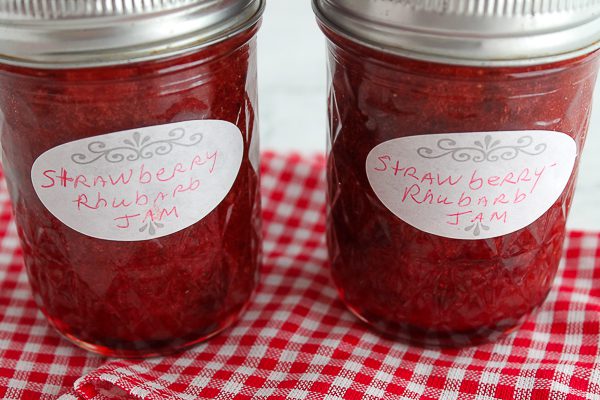 Even if you are not a rhubarb fan, this delicious jam just might change your mind!