(Part One of the Clementine Paddleford blogs)
I first became aware of Clementine Paddleford my junior year of college back in the '70's, as I was perusing the campus bookstore.  As a Food Science major, I was supposed to be buying books like organic chemistry, biochemistry, and other boring titles, when all I really wanted to do was look at the cookbooks.  As I was heading toward the cookbook shelves, I passed by the sale table where all books were one dollar.  A cookbook by an author unbeknownst to me, Clementine Paddleford, caught my eye simply because of her unusual name.  Intrigued to find out who this author was, I bought the book (you can still see the $1 sticker) and have never quite stopped thinking about Clementine since.  And let's get this straight – it's ClemenTEEN, not ClemenTINE as in the popular song.  She was very particular about that.  How do I know this?  Because Cindy Harris told me, and no one knows Clementine like Cindy Harris.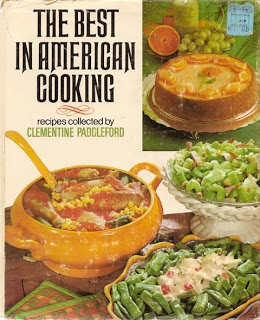 Cindy Harris is the Collections Processor of the University Archives at Kansas State University's Hale Library in Manhattan, Kansas.   This past June,  my daughter Kristina was asked to be a judge at a cooking competition known as "The National Festival of Breads" to take place, as fate would have it, in Manhattan, Kansas.  When Kristina called to tell me, we both knew I was booking a ticket because Kansas State is where Clementine bequeathed her entire culinary life, and then some.  I had mentioned to Kristina over the years that one of my dreams was to go to the university to read the enormous amount of information available about Clementine's life.   I wrote to the library and asked if I could make an appointment to view the archives.  Done.  Ticket was booked.  My dream was now going to be a reality.  I was finally going to "meet" Clementine.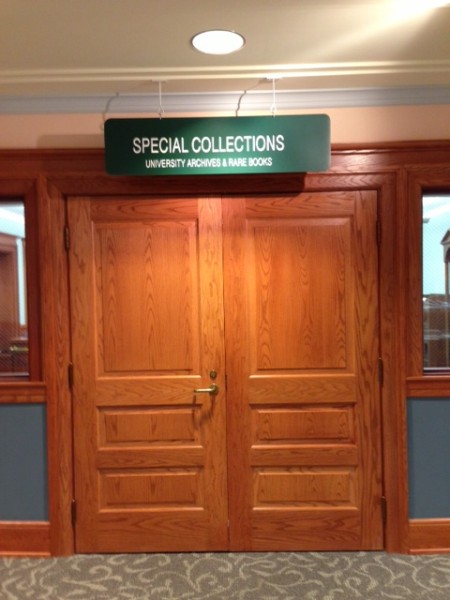 As I navigated the quiet halls of the library, I finally found the Special Collections room of archives and rare books.  I immediately felt nervous and intimidated.  There was so much waiting for me behind those impressive doors, and as it turned out, more than I ever could have hoped for.  A young man greeted me with a friendly smile and went to another area to find the person I was to meet.  Silence.  Such a quiet place.  I wondered if anyone could hear my heart pounding with excitement.  After a few minutes, Tony Crawford entered, who was the person I had been corresponding with by email.  He was such a sweet man and immediately told me I had to meet Cindy Harris.  Cindy, along with Kelly Alexander, a former senior editor of Saveur magazine, wrote a book called Hometown Appetites, the story of Clementine's life.  I was nervous enough, but now I was going to meet the actual author who spent 3-1/2 years painstakingly archiving Clementine's papers and many other items brought to the university from Clementine's Upper East Side apartment in New York City.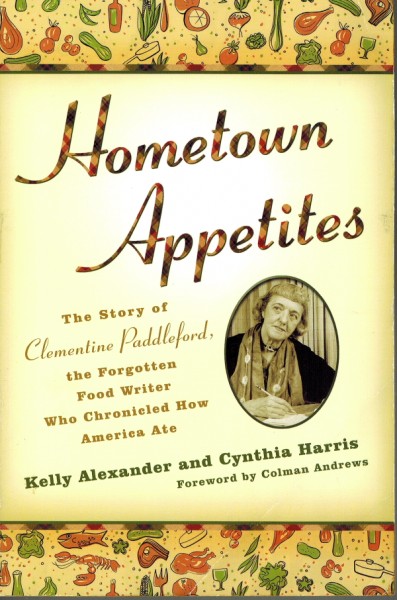 I sensed  and appreciated Cindy's love and even protectiveness of Clementine, who she affectionately called "Clem."  Her eyes lit up when she began speaking of Clementine and I was mesmerized with her stories.  I couldn't even take many notes right away – all I wanted to do was listen and let it soak in.  Only having two short days to explore the world of Clementine, I knew hanging on to Cindy's every word was important.  Two days!  I needed two months.  The amount of work Cindy put into archiving Clementine's items is mind-boggling.  The Clementine Paddleford papers are housed in 363 boxes, and organized into 16 series: 1) Biographical (six boxes);  2) Literary Works (12 boxes);  3) Correspondence (21 boxes);  4) Articles (82 boxes);  5) Companies (8 boxes);  6) Countries (45 boxes);  7) Menus (7 boxes, 4 oversize boxes);  8) Newsletters (17 boxes);  9) People (4 boxes);  10) Subject (105 boxes);  11) Oversize Items (8 flat boxes);  12) Scrapbooks (29 boxes);  13) Art (1 box) ;  14) Artifacts (6 boxes);  15) Photographs (12 boxes);  16) Printed Material (organized alphabetically in a bibliographic format including books,  magazines, and pamphlets.)  In addition, Clementine's library of cookbooks is preserved in Rare Books.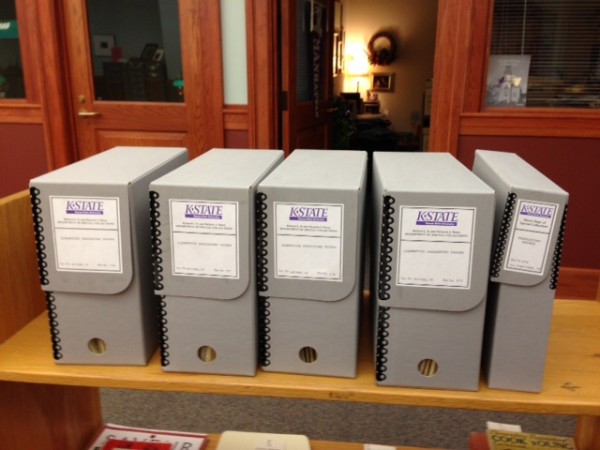 This is just a very small sampling of  some of the boxes.  After reading the amount of material to review, you can see why I needed more than two short days.  I asked Cindy how long it would take to look at everything.  She said that I would probably have to move to Kansas for a summer and come in every day, all day.  Sounds like it would a good summer to me!
I can't tell you what a hard decision it was to figure out what I wanted to see in those two days, so I had to select things near and dear to my heart to begin with, and what I thought the readers of my blog would enjoy.  I knew that there was extensive information in Cindy's book, so I began with many visual items.  I was highly interested in Clementine's collection of menus from restaurants around the country and the world, of which she had collected around 750 of them.  I couldn't possibly look at them all, so I had Cindy bring out the boxes she thought I would enjoy.  The menu covers took my breath away.  They are like works of art, suitable for framing.  Some of the menus are so large and heavy, it is actually hard to hold them.  I had to make the decision to only photograph the covers.  The  menus themselves, while fascinating, were sometimes in very small print or in writing that would not have transferred well enough to view as a whole.  The menu covers are going to be the subject of at least two upcoming blogs in the next few weeks –  but here is a sneak peek: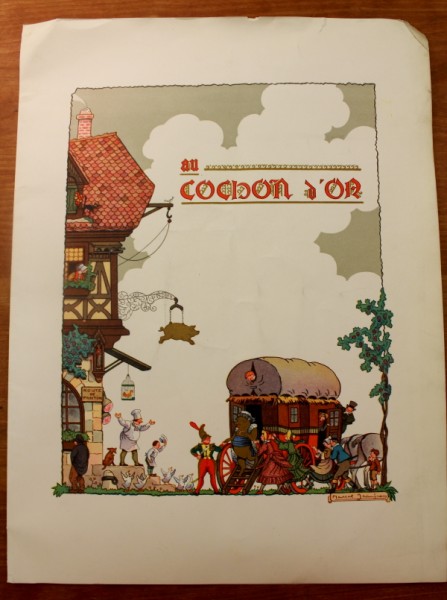 It has been hard for me to get started on the Clementine blogs because I want to do right by "Clem."  There is so much information that I could fill a book, but it's already been done in the best way possible by Cindy, plus this is a blog, not a book.  I wrote to Cindy and told her my dilemma, and she replied, "Start writing.  I know that  eventually Miss P will speak to you."  And that she has, because Clementine was not one to waste time and diddle around.  I feel like she would say – Get on with it!  So I am.   In the next few weeks, I will begin with Clementine's early days and leading up to her death in 1967.  As mentioned, I will include some of her beautiful menu collections, photographs, her adventures in Europe as well as her time as a Pillsbury Bake-Off judge.  Clementine loved everything from farm fresh food to dining with royalty in Europe.  She was way ahead of her time, as you will find out.  The culinary world would not be the same without the leadership and foresight of Clementine Paddleford.  I think you will be dazzled with the journey of this fascinating woman.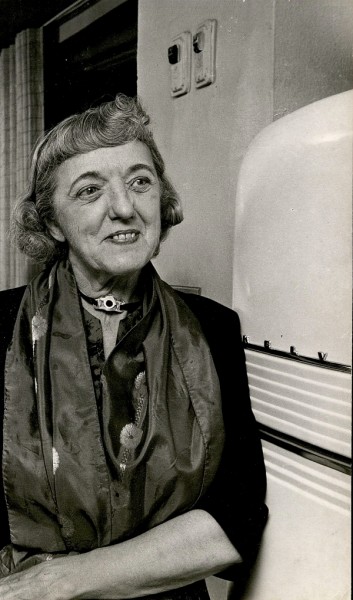 Coming up in the next blog:  Clementine's early life on the farm in Kansas.