One of my readers, Debbie Bower, sent a large box of cookbooks to help rebuild The Culinary Cellar after a flood.  They are all so wonderful, it was hard to select one to write about.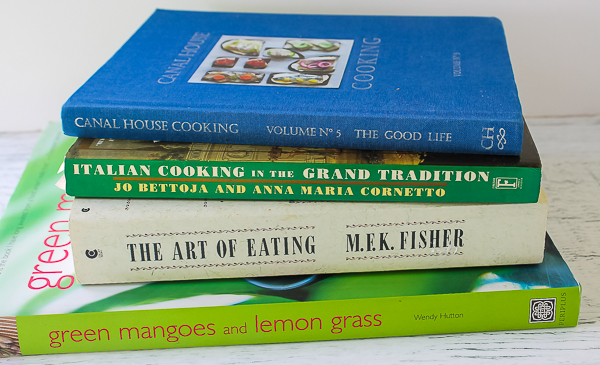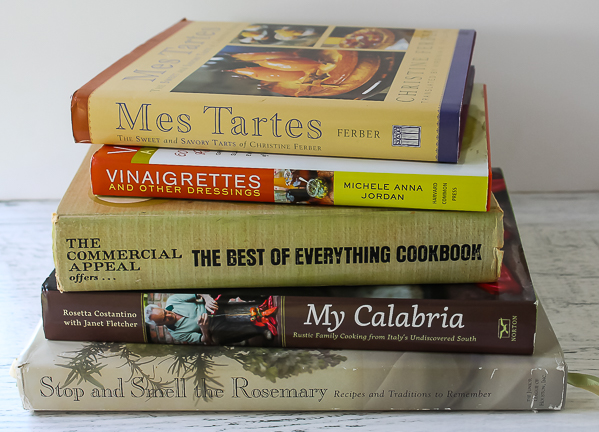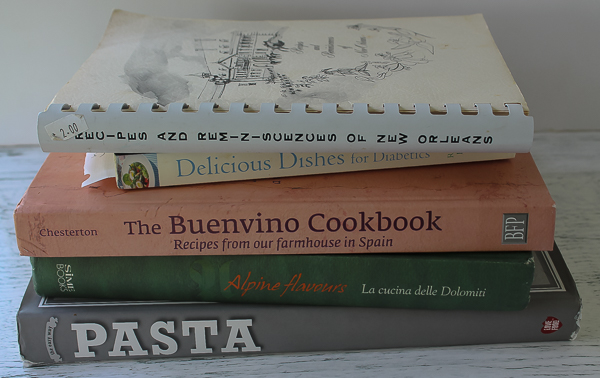 And not just all these cookbooks, but these wonderful magazines too!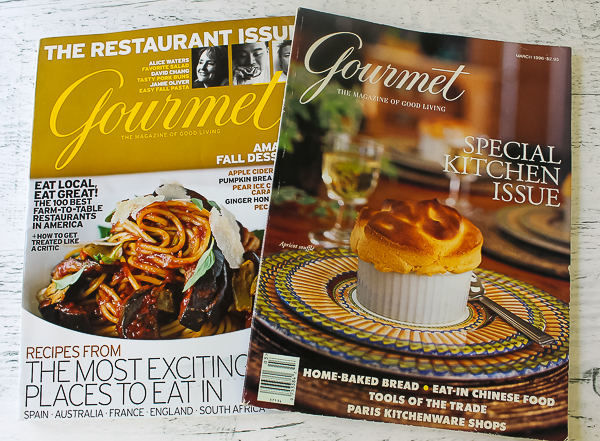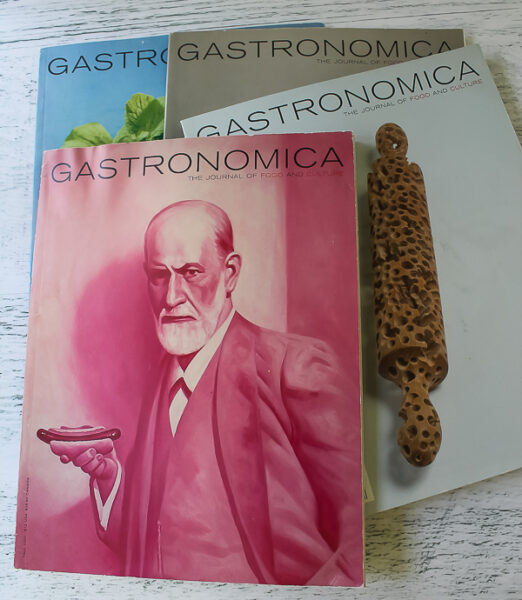 But this is the one I selected to write about and find a recipe to share: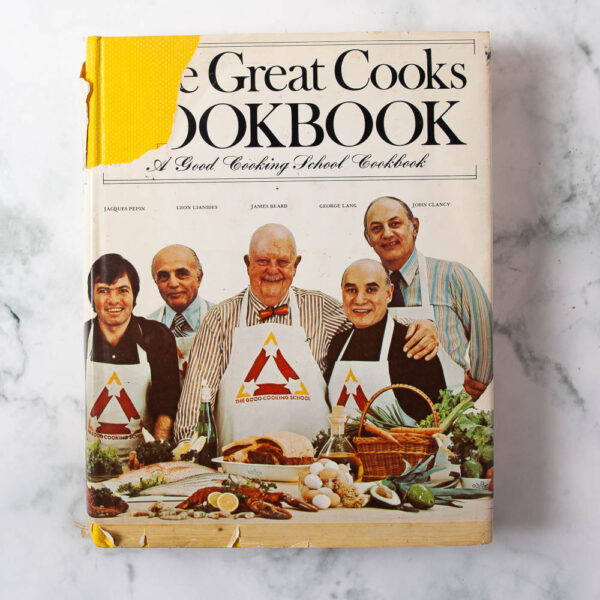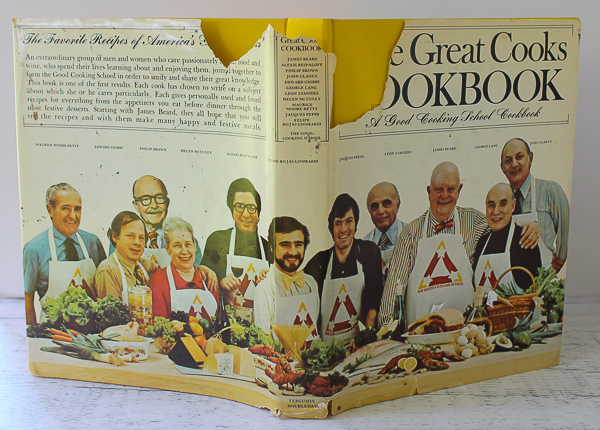 I love vintage cookbooks, and one filled with a group of famous chefs, some not with us anymore is a treasure.  I even love its tattered cover, showing it was well-loved over the years.
These chefs make up "The Good Cooking School," with each chef offering his or her specialty for all to learn from and enjoy.  There are over 200 recipes and various topics from Jacques Pepin on Vegetables, James Beard on Menu Planning, George Lang on Soups, John Clancy on Baking, Leon Lianides on Fish and Seafood, Alexis Bespaloft on Wines, Maurice Moore-Betty on Desserts, Edward Giobbi on Pasta, Philip Brown on Meats, Felipe Rojas-Lombardi on Poultry and Game, and Helen McCully on Hors D'Oeuvres.  It is definitely a cooking school in a book with a collection of different points of view and working styles, as well as fine and tested recipes.
The recipe I made is from the pasta chapter by Edward Giobbi.  I love broccolini and pasta, and always love a story behind the recipe.  The chef met an Italian man from the area of Napoli, while they were on a train in Germany, and he offered the chef this recipe using broccolini which was not widely familiar to many at that time.  The cookbook was published almost fifty years ago, so the chef does offer using regular broccoli but said he preferred broccolini.  I agree!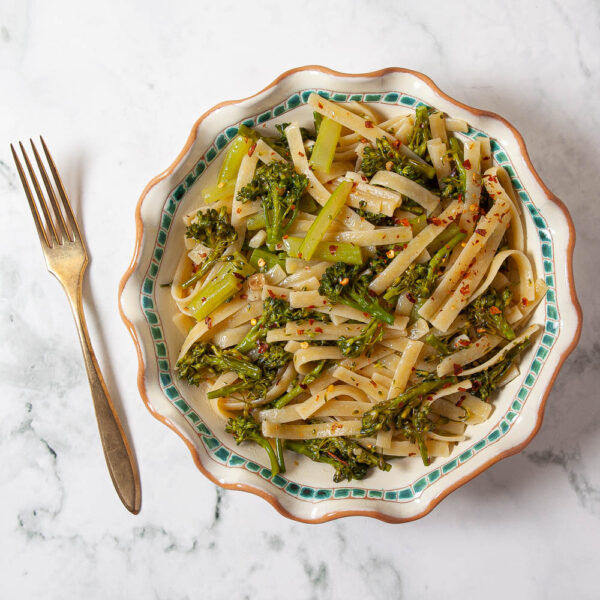 It is a simple but delicious recipe using just broccolini cut to the same lengths as broken pieces of linguine, olive oil, garlic, and red pepper flakes.  It pairs well with meats, chicken, fish, or even is a meal on its own with some crusty bread and a good wine.  (The recipe does not call for any cheese, but I made it again at a later time and tried it with a bit of grated Parmesan and even threw in some halved cherry tomatoes for color – but that is optional!)
This cookbook is such a treasure.  You can go to cooking school in your own kitchen and learn from the masters.  Thank you, Debbie Bower, for this and all the other great books!

Linguine con Broccoli
Author:
Edward Giobbi, from the Great Chefs Cookbook
Ingredients
1 pound broccolini (preferred) or broccoli
8 Tablespoons olive oil
2 Tablespoons coarsely chopped garlic
Hot pepper flakes, to taste
2-1/2 cups water, approximately
½ pound linguine, broken into 2-inch lengths
Salt, to taste
Instructions
Cut off flowerettes into 2-inch pieces, cutting in half if too large. Peel stems and slice into 2-inch lengths. Rinse and set aside.
Place olive oil, garlic, and hot pepper flakes in a large skillet and turn up heat. When oil gets hot, add broccolini pieces, one cup of the water, and all at once, the uncooked pasta pieces. Mix well to combine. Add salt to taste. Cover pan and cook over moderate heat, stirring often so pasta does not stick to the pan. Add more of the water as needed. Cook about 10 minutes, or until pasta is al dente. Adjust seasonings, if needed. Serve hot. Serves 6-8. (Note: If using broccolini and it is thin enough, you may not need to peel the stems. The recipe does not call for it, but the second time I made this recipe, I sprinkled it with a little Parmesan and tossed in some halved cherry or grape tomatoes for color)