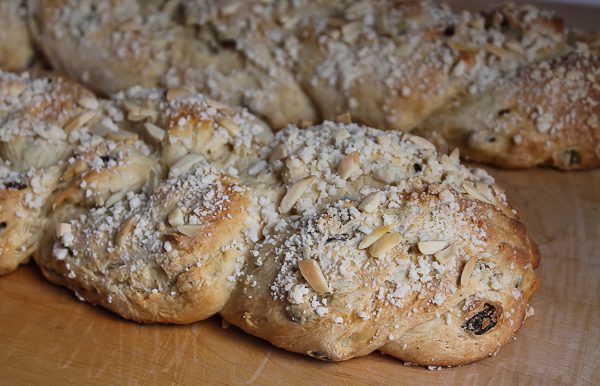 I found this lovely recipe for Hoska Twists in the April 1977 issue of vintage Sphere magazine.  I had never made Hoska before so I googled it and found out it is also considered a popular Christmas bread.  In the Sphere issue, it was a recipe from a reader who said his family enjoyed the bread for Easter brunch.  I also learned Hoska is sometimes called Houska, and used in a number of cuisines including Czech and Polish cooking.  It is braided and produces a soft and light dough.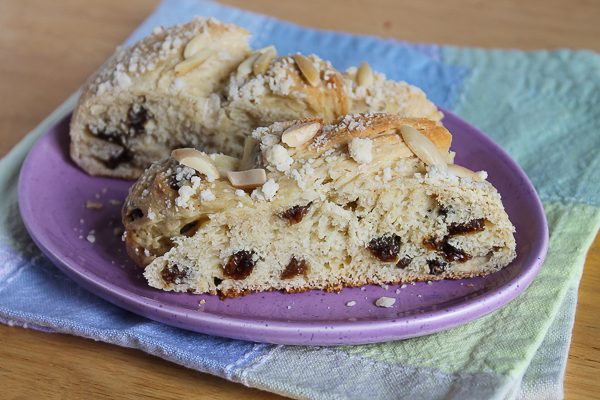 Sometimes different toppings are used like poppy or other seeds, or sometimes have a sweet crumble topping with almonds which is like the one here.  It also contains lots of golden raisins in the dough in addition to nutmeg.  I love how the aroma of nutmeg permeates the kitchen as the bread is baking.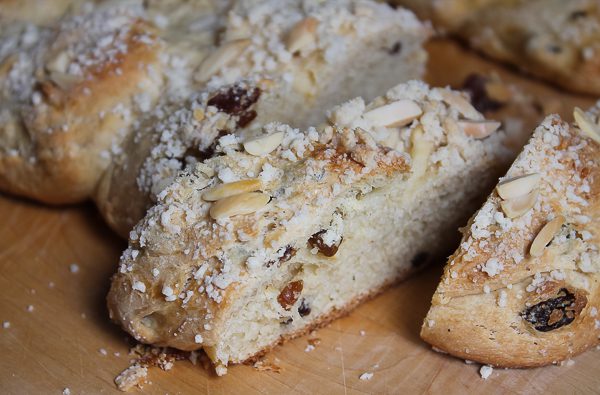 Hoska Twists
Author:
Sphere magazine, April 1977
Ingredients
1 package active dry yeast
2 cups whole milk, scalded, cooled to lukewarm (105 to 115 degrees F)
1 teaspoon white granulated sugar
½ cup unsalted butter, room temperature
1 cup white granulated sugar
1 large egg
2 large egg yolks
1 Tablespoon salt
1 teaspoon ground nutmeg
About 6-1/2 cups all-purpose white flour
2 cups golden raisins
1 Tablespoon butter
1 Tablespoon sugar
1 egg white, slightly beaten
2 Tablespoon slivered blanched almonds
Instructions
Dissolve yeast in ¼ cup of the milk in small bowl; stir in 1 teaspoon sugar. Let stand at room temperature until bubbly, about 10 minutes.
Cream ½ cup butter and 1 cup sugar in large bowl of electric mixer. Add 1 egg and 2 egg yolks. Beat at medium speed until mixture is light and fluffy, about 5 minutes. Beat in salt and nutmeg. Add 3 cups of the flour alternately with remaining 1-3/4 cup milk, blending well after each addition. Mix in yeast mixture and raisins.
Beat in about 2 cups of the flour gradually. Turn dough out onto a floured surface, using the last cup flour, while kneading the dough for about 10 minutes, forming a soft but workable dough, You may not use all the flour. You want the dough on the softer side, not stiff.
Place dough in a large greased bowl; turn dough greased side up. Cover with a dish towel and let rise in a warm place until doubled, about 3-4 hours. Dough is ready if impression with your fingers remains.
Punch dough down; let rest, covered, for 10 minutes. Divide dough in half. Divide each half into 3 parts, Shape each of the 6 parts into a roll 18 inches long. Place 3 of the rolls side-by-side on each of two greased baking sheets, Beginning at the middle, braid to ends. Pinch rolls together at ends; tuck under to form smooth ends. Cover and let rise again until double, about 2 hours.
Heat oven to 350 degrees F. Mix 1 Tablespoon butter, 1 Tablespoon sugar, and 3 Tablespoons flour in small bowl to form crumb mixture. Brush each braided loaf with beaten egg white. Sprinkle half of the crumbs and half of the almonds on each loaf. Bake until tops of loaves are nicely golden brown, about 30 to 35 minutes.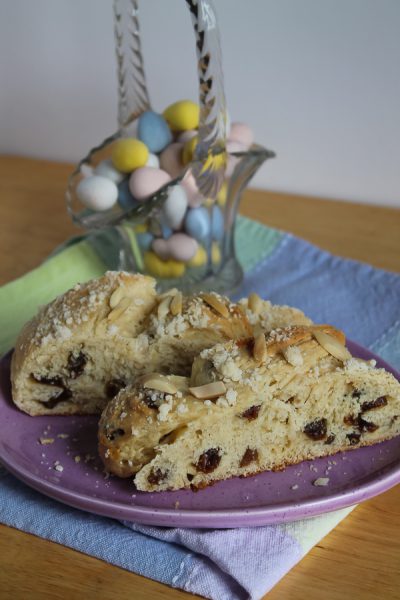 Have a blessed and happy Easter!