I have a new and very special treasure in the Culinary Cellar.
My daughter Kara, who lives in Mississippi and visits New Orleans often (and married there) found out that the iconic "K-Paul's Louisiana Kitchen" founded by renowned chef Paul Prudhomme, was sadly closing after four decades because of the pandemic and selling off everything in the restaurant.  Kara emailed Brenda Prudhomme, the chef's niece who took over when he died, and bought me one of the huge skillets used at the restaurant!  Kara gave it to me for Christmas and I can't begin to tell you how excited I was, and still am, to own this piece of culinary history.
Paul Prudhomme was a big influence on me when I decided back in 1985 to enter a national cooking contest called "Hunt's Great Spaghetti Hunt" sponsored by Hunt-Wesson Foods.  Cajun and Creole cooking was at its peak of popularity at that time, mostly because of Paul Prudhomme, so I decided I had to make a Creole-inspired spaghetti sauce.  I had his Louisiana Kitchen cookbook and read through all the recipes, writing down what spices and ingredients he used and came up with a sauce recipe.  For the contest, one first had to win their region before the finals in New York City, and I was lucky enough to win my Northern region.  I competed against the four other winners of their regions and we all met in New York where I did not win the grand prize of a trip to Italy, but we had the time of our lives!  It was one of the best contests I ever had the privilege to be a part of, and I wrote a blog about it way back in 2010 when I first began my blog that you can read here.
So now go back to less than a year after the contest, with the chef and his cooking still very popular.  The Chicago Tribune decided to hold a contest for readers to send in a gumbo recipe to be judged by Paul Prudhomme himself.  Not only that, but the chosen few winners would also have lunch with him!  Since he still remained one of my chef idols, you know I had to enter.  The deadline for notification came and went, so I thought I was not selected as one of the winners.  Well… that is not the end of the story.  Read here what happened and let out a big moan like I did!
Now you can see why this pan used by Paul Prudhomme in his restaurant holds such a special place in my heart  Thank you, Kara, for being so thoughtful and giving a gift with such a special meaning to it.  I will treasure it forever.
Now for another surprise treasure: photographer Eric Kleinberg.  Eric is an incredible worldwide Food/Lifestyle/Travel/Interior photographer, who happens to be a friend of my daughter Kristina, and he took all the photos for her upcoming cookbook about Finnish food.  Eric is amazing, and took the following photos of Paul Prudhomme's pan and my Creole Spaghetti Sauce!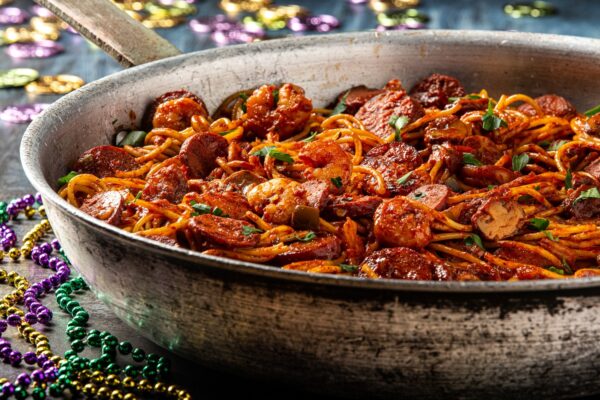 Look at that pan!  It's so huge and heavy, and as you can see, very well-used and loved.  And that's my Creole Spaghetti Sauce!  For Mardi Gras, it's all surrounded by the beads worn by everyone celebrating.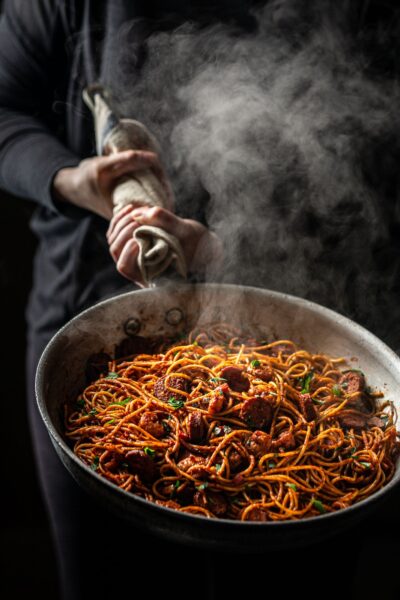 I love this photo!  Kristina said her elbows were shaking because it was so heavy to hold!
Close-up of the sauce!
If you want to see more of Eric's work, be sure to check out his website and follow him on Instagram and Facebook.
Here is the recipe of the prize-winning sauce!
Happy Mardi Gras 2021!

Creole Spaghetti Sauce
This recipe won the Midwest regional "Hunt's Great Spaghetti Hunt" contest in1985.
Ingredients
2 Tablespoons olive oil
2 Tablespoons butter
1 cup sliced fresh mushrooms
½ cup chopped onions
½ cup chopped green bell pepper
½ cup chopped red bell pepper
2 cloves garlic, minced
2 teaspoons dried oregano
2 teaspoons dried basil
2 teaspoons granulated sugar
1 teaspoon Worcestershire sauce
¼ teaspoon dried thyme
¼ teaspoon paprika
¼ teaspoon allspice
⅛ teaspoon cayenne pepper
¾ pound sliced smoked sausage
2 cans (8 ounces each) Hunt's Tomato Sauce
1 can (6 ounces) Hunt's Tomato Paste
½ cup white wine
½ cup water
½ cup Parmesan cheese
½ pound cooked shrimp
Hot cooked spaghetti
Instructions
Heat oil and butter in Dutch oven. Add mushrooms, onions, and peppers; sauté until softened, Stir in garlic.
Add all remaining ingredients except Parmesan, shrimp, and cooked spaghetti.
Simmer for 30 minutes, stirring occasionally.
Stir in Parmesan until dissolved, and simmer 15 minutes longer.
Stir in cooked shrimp until warmed. Ladle sauce over hot cooked spaghetti. Serves 4-6.