(Part Seven of the Clementine Paddleford blogs)
In 1957, no one could come near Clementine Paddleford's influence in the culinary arena. That is, until Craig Claiborne entered the picture as the food writer for The New York Times.  He rose quickly to the titles of restaurant reviewer and head food editor.  When Claiborne left his military service in 1953, he followed his passion for food by enrolling at the l'Ecole Hoteliere de la Societe Suisse de Hoteliers in Switzerland under the G.I. Bill.  Upon his graduation and return to America, Claiborne landed a job writing restaurant reviews for Gourmet.  He was not the hero to home cooks as was Clementine, but he did capture the attention of the public by talking about which restaurants would be a good choice for dining in New York City.  Clementine became a little miffed when Claiborne wrote articles similar to hers.  In addition, The New York Times and the Herald-Tribune became rivals of sorts.  The Times had its own Sunday magazine with lucrative advertisers as the Herald began to suffer financial problems.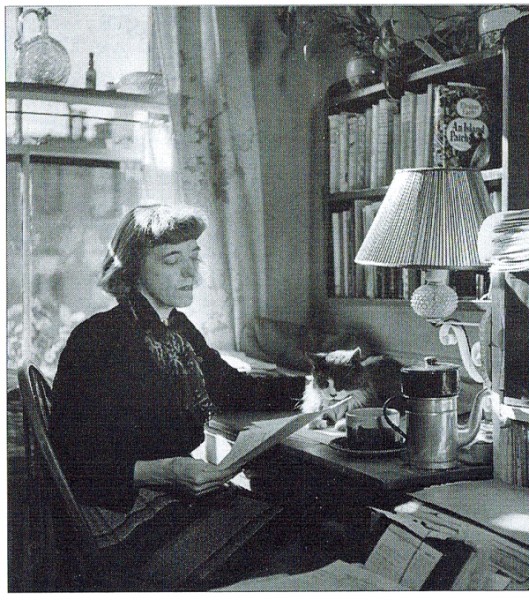 Clementine had to learn to accept this new kid on the block, but she didn't need to worry about losing her faithful audience.  Claiborne may have seen Clementine as a rival, but failed to understand that Clementine never saw herself as a restaurant critic and was no threat to him in that area.  Her focus was still mainly the American home cook and not the French-trained cook as was Claiborne.  Clementine understood how to write about how good, solid cooking was how America eats.  No one could rival Clementine in that arena.
Clementine was now sixty-two years old and she achieved her dreams of becoming a respected household name.  Writing How America Eats was a long process and became an immediate hit when published in 1960.  Clementine called it her "voyage of discovery" into the world of food.  Clementine began traveling across the nation in 1948, traveling by car, plane, foot, and even on mule back, for a grand total of over 800,000 miles when it was all said and done.  She interviewed over 2,000 cooks and ate every single dish that was included in the book.  In the end when Clementine was asked how exactly does America eat, she replied, "America eats on the fat of the land, in every language."  She continued to say that "even with the increasingly popular trend towards foreign foods, the dishes come to the table with an American accent.  We call these regional.  Many of these recipes were salvaged from batter-splashed, hand-written notebooks.  They are word-of-mouth hand-downs from mother to daughter.  To get such recipes takes ever-lasting patience, and a dash of effrontery, too."  This statement is most likely the first published definition of regional American cooking.  Clementine used food to tell American stories.  She embodied Brillat-Savarin's famous quote of "Tell me what you eat, and I will tell you what you are."
Clementine still managed to write her regular columns, including a ground-breaking report in 1960 called "Happy Cooks of Napa Valley," referring to two brothers, Peter and Robert Mondavi, considered pioneers of the California wine industry.  Again being ahead of her time, Clementine reported on a Pennsylvania farmer named Paul Keene who had the idea of growing crops without chemical fertilizers and insecticides, which at the time was viewed as being downright un-American.  Keene packaged food for health food stores, including a product called "Apple Essence," his signature apple butter from his Walnut Acres farm.  Clementine wrote of this product in her column, and we know what happens next when Clem writes of a product.  Eventually, Walnut Acres was sold to Hain's for $8 million.
Clementine's influence in every aspect of the food world is staggering.  Even with her success, Craig Claiborne's The New York Times Cookbook published in 1961, eventually eclipsed Clementine's How America Eats, and the demise of Clementine's newspaper, The New York Herald-Tribune practically sealed the deal on Clementine's food writing.  The folding of the paper was a blow to Clementine, but you don't think she actually gave up, do you?  Not our Clementine.  The paper was sold to a Hearst-owned paper and Clementine's This Week magazine survived.  Clementine decided to change with the times and hold a "recipe swap" with her readers, inviting her young readers, meaning not just the young of age, but also young at heart, to introduce time-saving recipes using the new wave of convenience products introduced to the grocery stores.  Clementine received 50,000 recipes.  This was a touch of genius for Clementine who could no longer travel as much at her age, but she still could emphasize her reporting of regional recipes.  But this time, people came to her and she didn't have to travel to see them.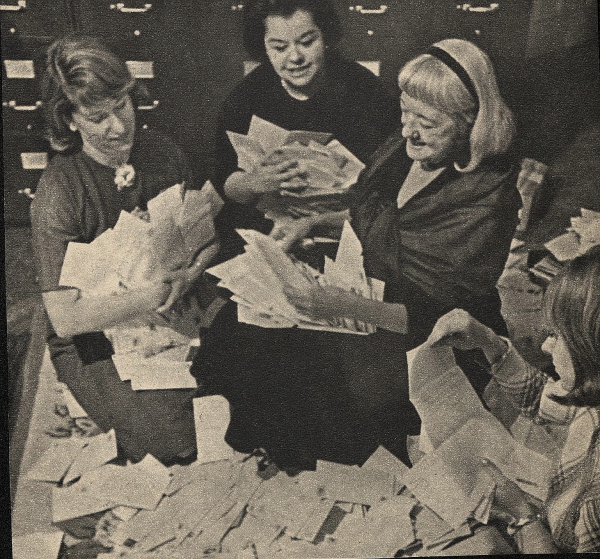 A pile of recipe swaps for Cook Young!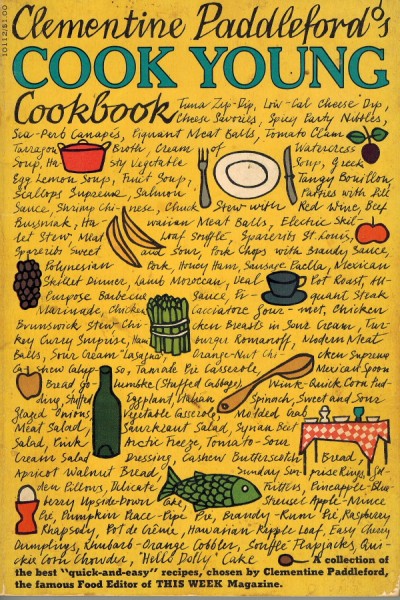 The completed cookbook!
Conducting this recipe swap brought with it a whole new set of faithful readers.  However, throughout the process, Clementine was not feeling well and her health began to fail.  But once again, you know there would be a couple last hurrahs, and the next one was big.  Clementine had been saving clippings of Russia since 1941 and always had the desire to visit.  Her columns from Russia included information about vodka, titled (what else?) "Vodka:  Russian Versus American,"  "Inside a Russian Kitchen," and "Red Farms Cultivate Thousands of Acres."  Clementine's trip to this Cold War enemy was covered by Newsweek magazine with the headline, "Better Bread than Dead."  Clementine was quoted in the article saying of the women she met, " No one wears a girdle!"
With continuing failing health , Clementine's editor at This Week approached her with a proposition that he wanted to "buy" Clementine's name to use as a byline in the same trademark as "Ann Landers" or "Dear Abby."  In proposing this, the hope was to continue her name into the future with her heirs receiving payments.  As you might surmise, this did not sit well with Clementine, in fact, it got her off her sick-bed and back to work.  The backbone reveals itself once again.   She later planned trips to Hawaii, China, and Mexico.  In China, she discovered an unknown street food, tofu.  In Hawaii, she judged a men only cookout championship, which turned out to be her last big public relations function of her career.  It was at this contest where she met the actress Joan Crawford, who presented the runners-up with keys to new station wagons.  Of course, Clementine managed to get an interview with the actress titled, "Joan Stars in the Kitchen," which ran a photo of Joan with her daughters.  Clementine asked Crawford, "Do you really cook?"  "I certainly can," she replied, "I started to cook when I was nine years old to pay my tuition at the St. Agnes Academy in Kansas City."  She supplied Clementine with her meatloaf recipe.  When Clementine asked if she had a fancier dish to add, Crawford replied, "Simplicity is a lovely thing." Crawford kept in contact with Clementine, reporting to her that her article produced a good amount of mail, and she told everyone to go out and buy "How America Eats."
Clementine continued to make future plans, including judging the men only cookout the following year, and after the contest continuing onto Australia and New Zealand.  She also developed a plan to start writing a new book, "How the World Eats."  Unfortunately, life had other plans for Clementine.  By the beginning of 1967, Clementine's cancer had spread "everywhere."  As she lay dying, her editor made one last plea to buy her name.  Clementine again refused.   On November 13, 1967, Clementine Paddleford died.  Her obituary appeared in major newspapers all over the country.  The copy was four columns long with the details of her accomplished life.  There were facts such as how her column reached 12 million readers; how she could "embellish even the lowliest of foods to seem like taste delights."  One person wrote: " Clem was a dear woman with rare courage, a strong lust for life and a rollicking sense of humor.  She was also indefatigable.  Whenever I go on this old globe, someone is certain to say, Clem was here."  This was the quotation from her rival, Craig Claiborne.
 Coming up next:  Final blog of why Clementine still matters to the culinary world along with some additional photos.